In the last article, we discussed about Zhanxi Clothing Wholesale Market area, which is the largest garment wholesale market in Guangzhou and even the Pearl River Delta. Now we'll set foot on another clothing market, Shahe Clothing Wholesale Market Area, which is the second largest garment wholesale market inGuangzhouand enjoys a solid reputation both at home and abroad after more than 20 years of rocketed development.
There are several large clothing wholesale markets in Shahe Clothing wholesale market area: Wanjia clothing wholesale market, Xintiandi clothing wholesale market, Yimin clothing wholesale market, Youli clothing wholesale market, etc.
Usually the opening time of Shahe garment wholesale markets is the earliest inGuangzhou. At 3-4 am, lots of businessmen would gather around the markets and take their picks. If you are lucky enough, sometimes you can come across some occasions when certain factories are doing promotions. The clothes can be so cheap that it goes far beyond most people's expectation, and they are sold by weight. Since the stores open quite early in the morning, and they close early, usually at about 11am, sometimes later about 1-2pm in the afternoon in peak seasons.
There is one thing to pay special attention to if you are buying in bulk in Shahe clothing wholesale markets. There are two kinds of prices, one is wholesale price, and the other is packaging price. Usually, the packaging price costs several yuan more than the wholesale price. You can buy 2-3 pieces at wholesale price, but for packaging you must buy at least 10 pieces.
Wanjia Clothing Wholesale Markets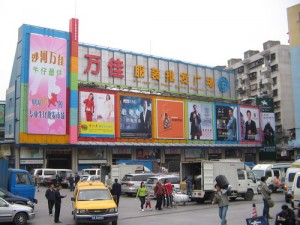 Founded in 1996, Wanjia garment wholesale market has been quickly developed into a new type of clothing wholesale market that integrates customers flow, logistics and information flow in one package with its convenient geographical condition. Wanjia clothing wholesale market houses a wholesale place of about 50,000 kilo meters, 1,200 compound stores, more than 400 multi-function office buildings and a large parking lot of about 8,000 kilo meters. Lots of shipping companies operate in the wholesale market, offering efficient and perfect shipping service.
All the stores on the first floor are of compound style with reasonable interval space. The first floor mainly engages in trousers, sports wear and fashionable underwear, but the most well received is the wholesale of jeans, which ranks at the top of the list inChinawhen it comes to the sales volume.
The service districts are on the second or third floors featuring exquisite decoration, which perfectly integrates the aesthetics of oriental and western art. Hundreds of delicately ornamented office buildings have provided a nice business environment for those businessmen who purchase there or are discussing about the cooperation details. All kinds of business activities can carry out there such as checking samples, buying existing clothing in bulk, calling for shipping service, exchanging ideas online, using website banks, etc.