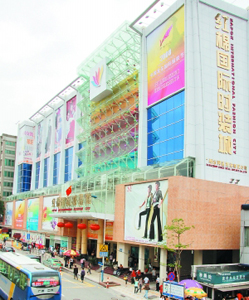 As the important port of the Pearl River Delta and one of the earliest cities opened its door to the outside world, Guangzhou business has been in rocketed and vigorous development and it is now held as the leading manufacturing, economic center of China as well as foreign commerce. Boasting a sea of commodities, Guangzhou wholesale market is truly an ultimate heaven for business and a paradise for shoppers. For anyone who are into doing business in Guangzhou, having a sound knowledge of Guangzhou economy and the wholesale markets can help unlock the doors to fortune.
Geographic Advantages of Guangzhou
Location in the World: Located in the geometrical center of the economic circle of Southeast Asia, it takes only 3 to 4 hours' flight voyage from Japan or other Southeast Asian countries.
Location in China: Adjacent to Hong Kong and Macau, Guangzhou is the commercial center combining commerce, finance, education, information, manufacturing and many more as a whole. It is also the center of the Pearl River Delta, which is one of the most flourishing and prosperous economic areas in China.
Economic Advantages of Guangzhou
In the 1980's when the economic liberalization policies came into effect, the long-standing commercial and entrepreneurial spirit of Guangzhou flourished again. Taking advantages of adjacent Special Economic Zones like Shenzhen, international experience of Hong Kong as well as a flock of affordable migrant labor force from the countryside, Guangzhou exerts a great impact on China and even the world with its powerful economic capacity and radiation.
Introduction of Guangzhou Wholesale Market
Guangzhou is the home to thousands and millions of products, ranging from garment, leather, electronics, cosmetics, auto parts to jewellery and many more. Glittering arrays of products of diverse styles are displayed in the markets, and you could find almost anything you want there.
Categories of Guangzhou Wholesale Markets:
Clothing Wholesale Markets
Shoes Wholesale Markets
Computer/Mobile/Electronics Wholesale Markets
Handbags/Belts Wholesale Markets
Hotel articles/Porcelain/Kitchenware Wholesale Markets
Toys/Gifts Wholesale Markets
Antique/Jade/Jewellry Wholesale Markets
Lights Wholesale Markets
Beauty/Cosmetics products Wholesale Markets
Auto Parts/Motorcycle Parts Wholesale Markets
Office Supplies/Stationery Wholesale Markets
Fabrics Wholesale Markets
Watches Wholesale Market
Glasses Wholesale Markets
Furniture/Building Material Wholesale Markets