Suppliers are crucial to any business especially startups starting from scratches and small businesses to outperform competitors in the rat race. Whatever you want to source, you have to put in the groundwork. If you happen to be in the handbags business and are looking to import handbags from China, hopefully the following information about two handbags manufacturing hubs in China can help you pick up the pace.
Where are the leather manufacturing hubs in China?
# Guangzhou(Shiling 狮岭)
# Hebei(Baigou 白沟)
Now, let's get started.
# Guangzhou(Shiling 狮岭)
Guangzhou has many claims to fame and one of them is being hailed as the Leather Capital of China. If you are seeking for handbags from China that are made of better material and with good craftsmanship, then you can't miss Guangzhou.
A stroll down Guangzhou handbags wholesale markets in Gui hua gang 桂花岗 area, you'll not be surprised that Guangzhou lives up to its name "Leather City". It's a bargain-hunter's mecca for handbags with over ten buildings of wholesale markets clustered in many floors.
Compared with the chaotic leather wholesale markets, I'd prefer heading over to the handbags manufacturing base in shiling town 狮岭, within one hour and a half driving from city center of Guangzhou.
Where's Shiling 狮岭?
Shiling, which means "Lion ridge" in Chinese as there's a local mountain ridge with lion shape, is a town located in the outskirts of Guangzhou. Since the 1970s, the government started planning industrialization of Shiling as a leatherworking center.
At the early beginning, Shiling produced low to medium quality leather goods for domestic and international markets, now with more shifts on high end leather goods.  It's the biggest leather manufacturing and marketing center in China.
Centered by shiling international leather city which specializes in pu leather, canvas, ribbons, zippers, straps, hooks, etc..raw materials for handbags manufacturing, you can find countless of handbags factories in different sizes surrounding the neighborhood.
A bit similar to the China clothes manufacturers I've written on the last post, handbags factories in Guangzhou are also of very small MOQ, usually about 20, 30 or 50 pcs per design and their English is very limited. Most of the handbags manufacturers just cooperate with shops in Guangzhou leather markets and here back in the factory they will focus on manufacturing. For most of them, English is a great barrier.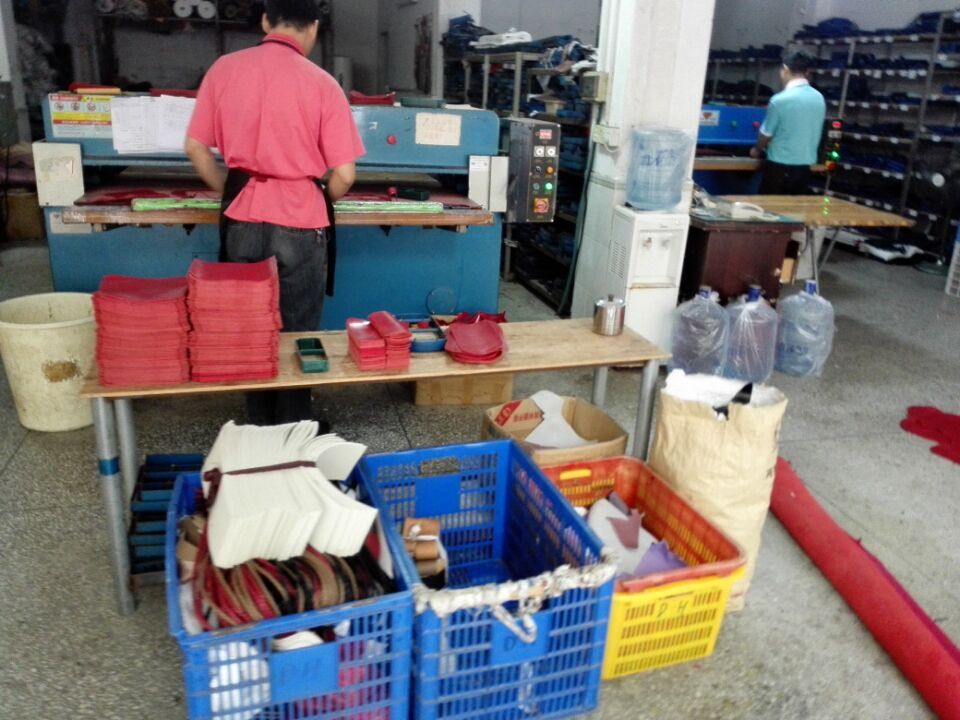 Just like what we use in manufacturing mobile phone covers, a worker is using the same machine with mold to cut the leather into different parts.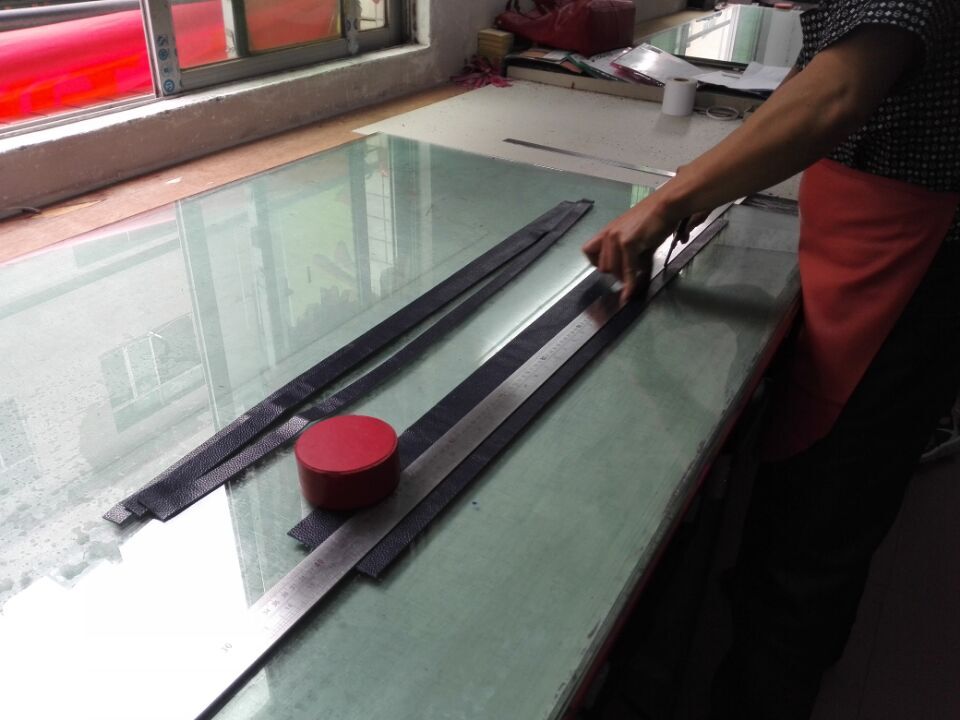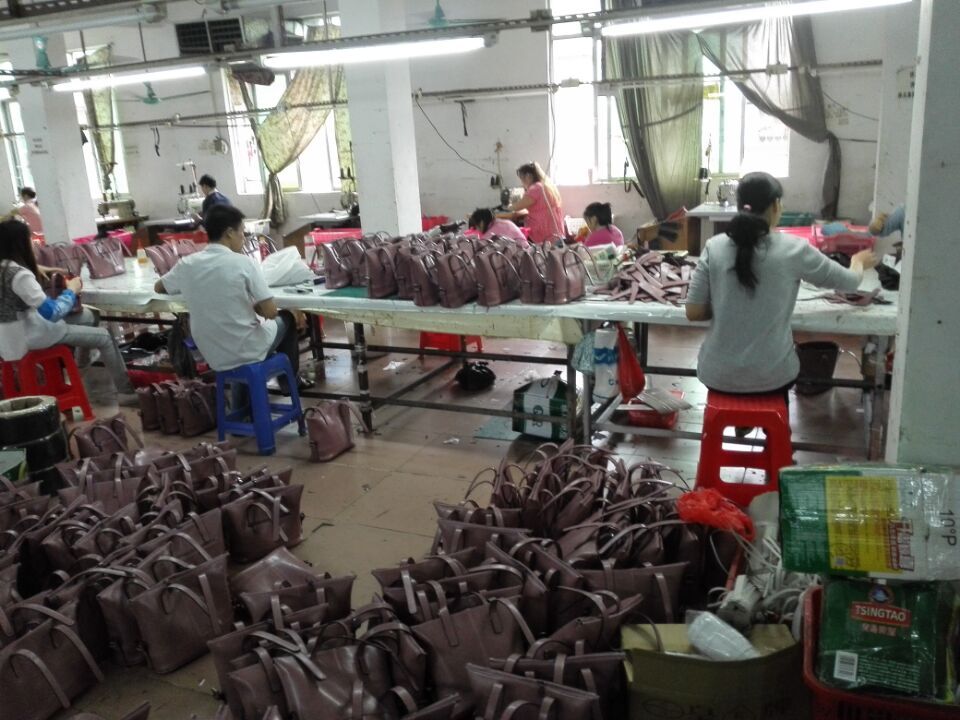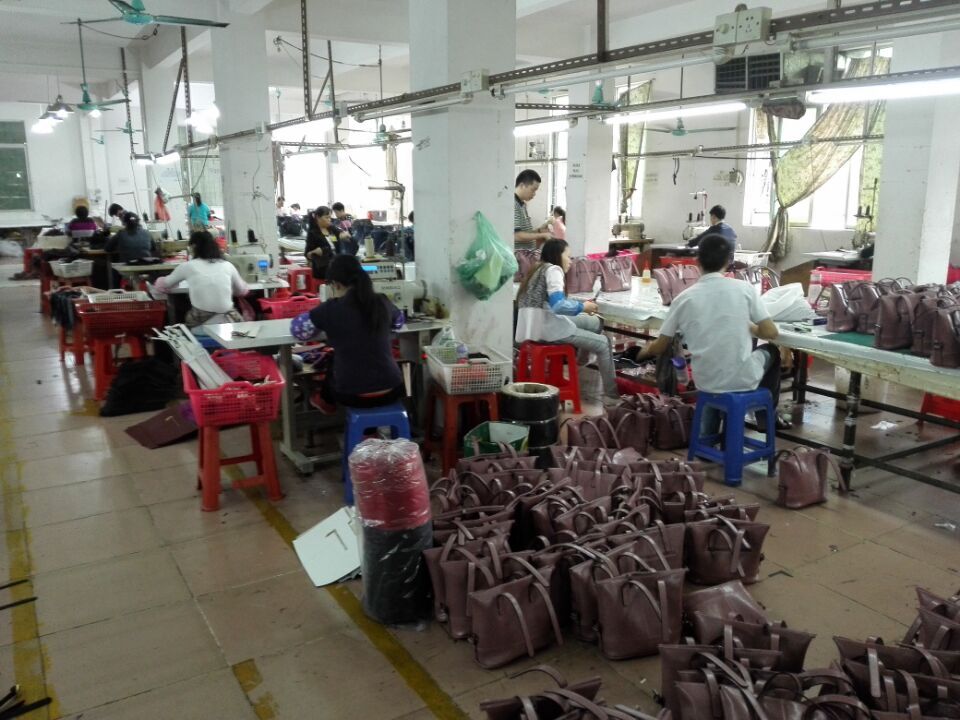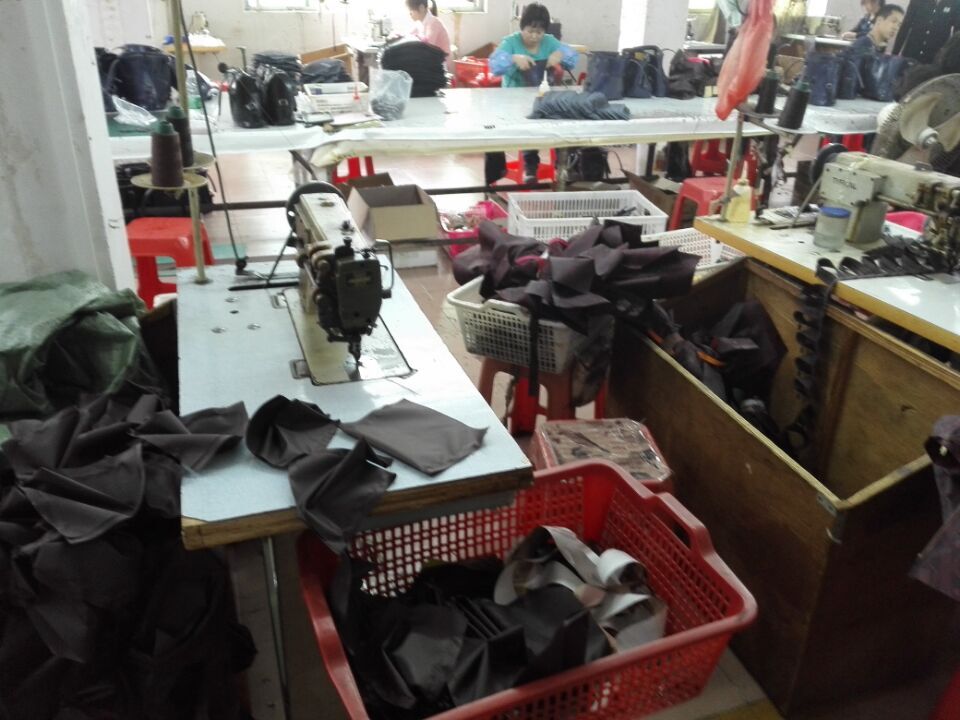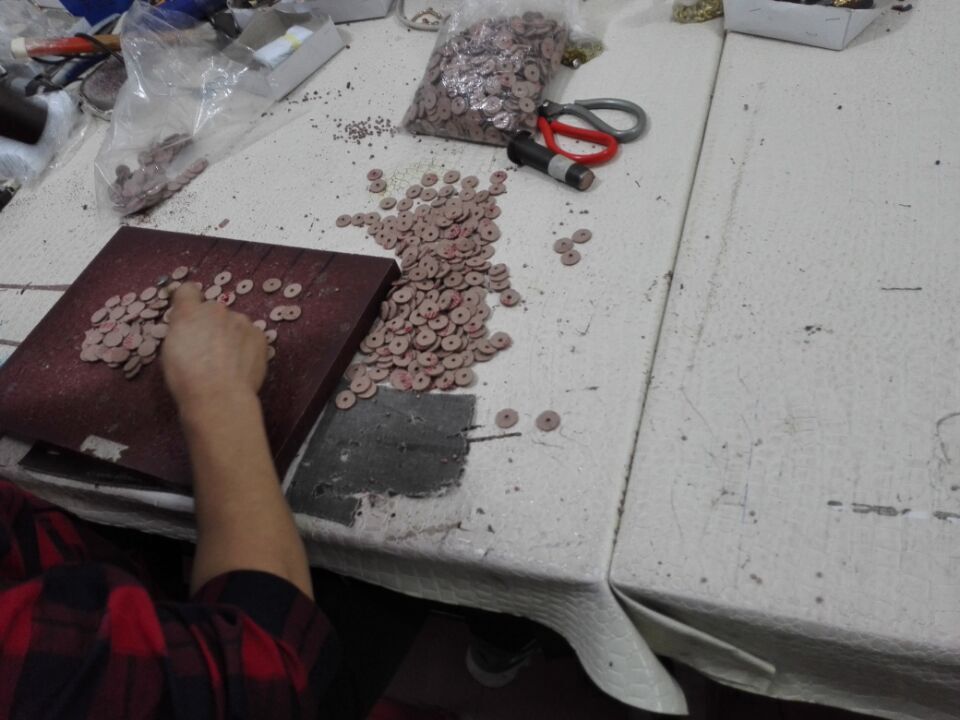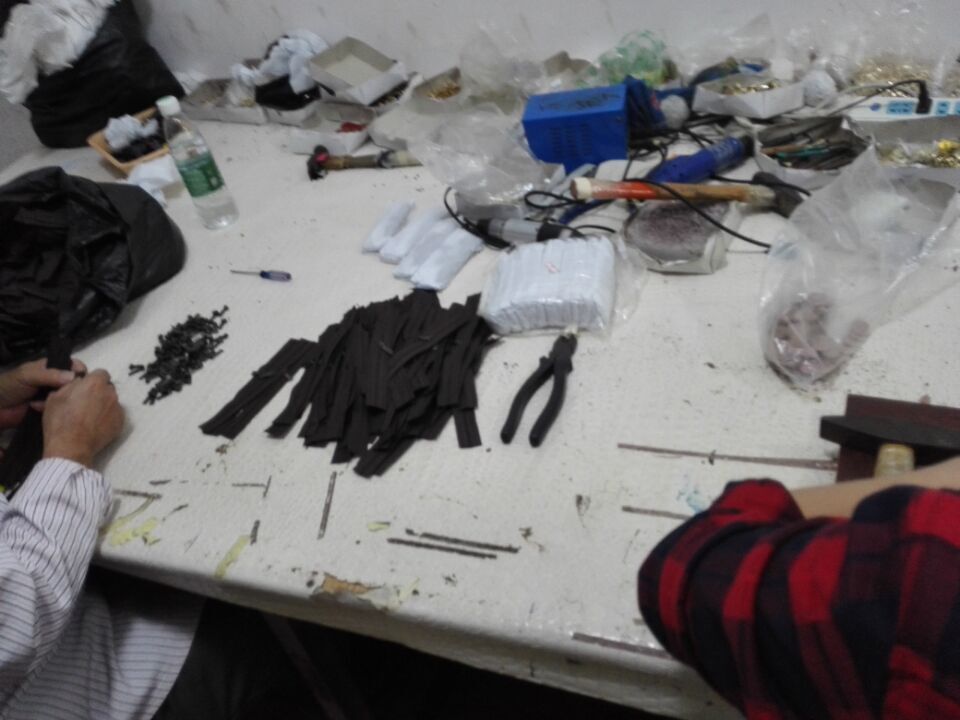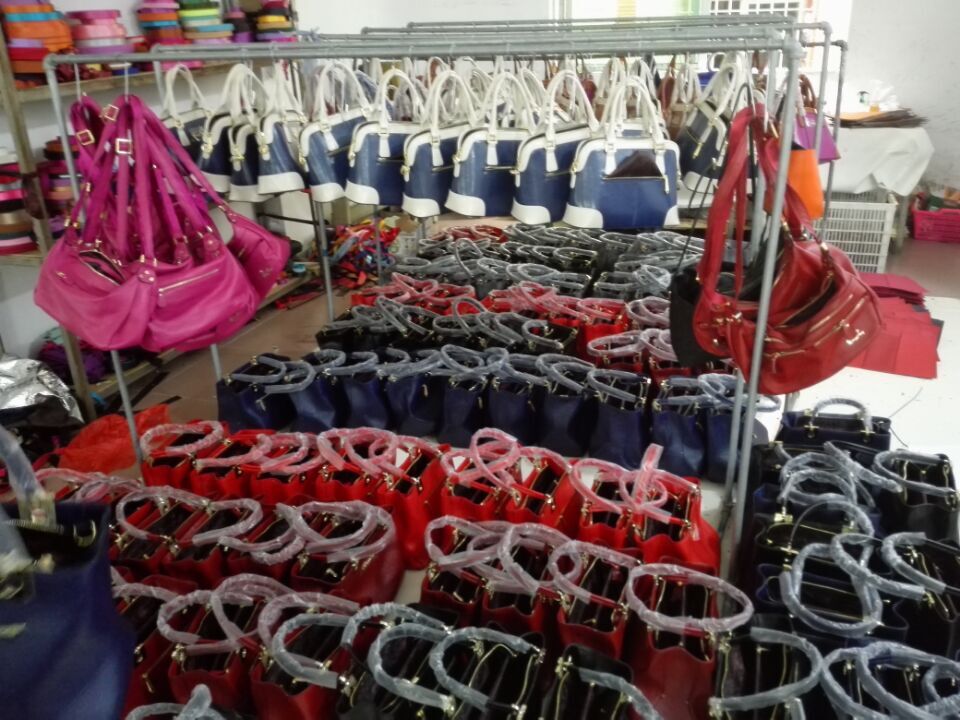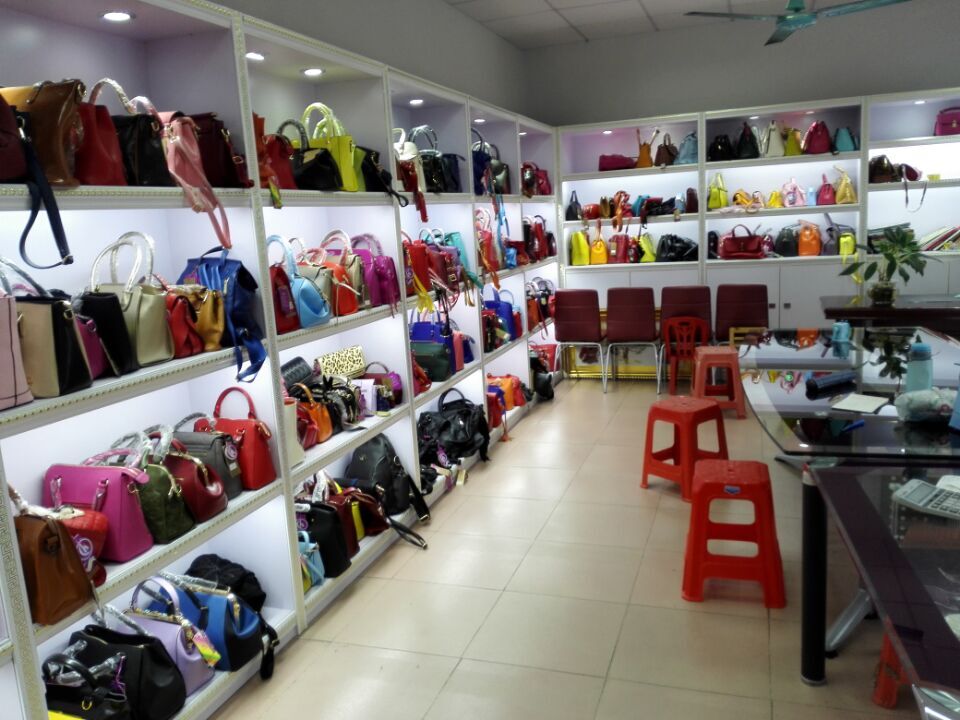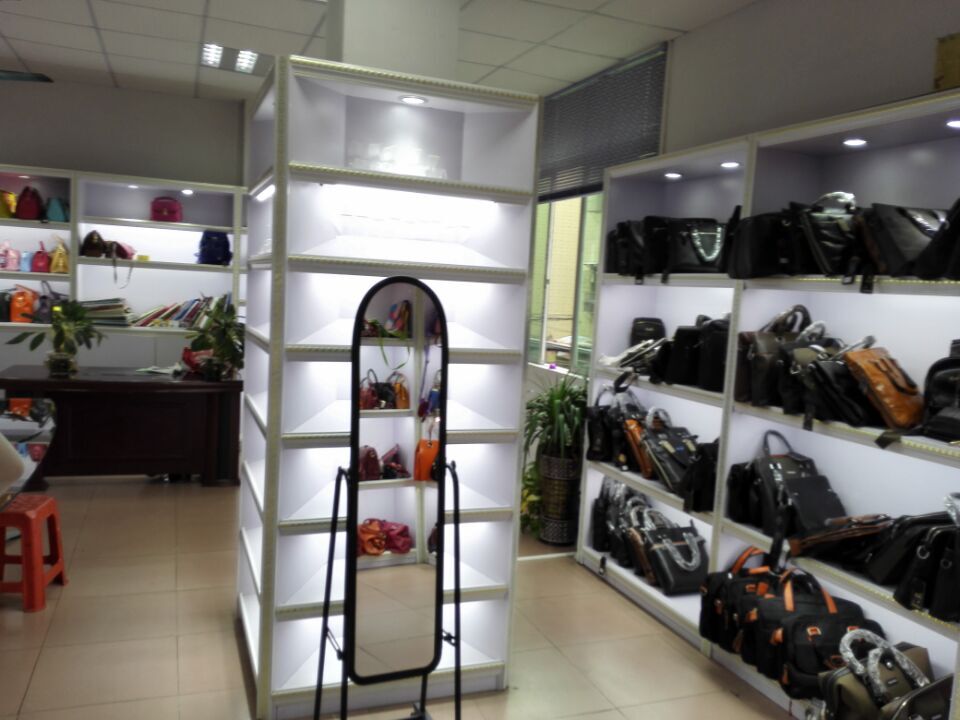 If price is your main concern, go to northern China Hebei province, a manufacturing hub for low to average quality PU/canvas bags at low price. Although dwarfed in size and fame while compared with Guangzhou, Hebei has maintained its key competitiveness with much lower costs of labor and raw materials.
# Hebei(Baigou 白沟)
Where's Hebei handbags manufacturing hub?
Baigou(白沟), a small town in Baoding city, Hebei province, adjacent to Beijing, is hailed as norther China's capital of handbags. With labor costs almost 50%-60% less than cities in Pearl River Delta, government incentives, Baigou has evolved into a leading handbags manufacturing base in northern China. However, it focuses more on low end markets and supplies mostly to domestic markets. Interested to know more? Here an article from China Daily would walk you through the development of Baigou from a small town to a business hub for handbags.
A comparison of handbags manufacturing in Guangzhou and Hebei
| | | |
| --- | --- | --- |
| | Guangzhou(Shiling) | Hebei(Baigou) Handbags |
| Quality | Medium to high quality | Low quality |
| Production costs | High | Low |
| History in the leather industry | 1970s | 1970s |
| Geographical location | South China | North China |
| Types of handbags | Genuine leather, PU, canvas, etc. | PU, canvas…very few genuine leather |
Which is better for you, Guangzhou or Hebei
There're a few factors to take into consideration before deciding which leather manufacturing hub is the best for you as the two manufacturing hubs are thousands of kilometers apart.
If your target market is medium to high end with focus on quality and attention to details, definitely Guangzhou is the second to none choice. However, if you target at low end markets more price sensitive, Hebei can be a good option.
In Guangzhou, you can find handbags crafted from an extensive range of materials, crocodile leather, first grade genuine leather, second grade genuine leather, canvas, fabric, nylon, etc, while in Hebei there are very few genuine leather ones.
Most of the handbags factories manufacturing for some iconic international brands are located around the Pearl River Delta, i.e., Dongguan, Guangzhou. The leather manufacturing skill in Guangzhou has reached the level that most of the 1:1 grade copy bags are from Guangzhou. Some replica bags are imitated so well that it's quite challenging for average people to tell them apart.
Guangzhou is the biggest import and export hub adjacent to Hongkong and Macau, while Hebei is in the northern part close to Beijing. For international trading companies buying different items like clothes, led, hotelware or other items with handbags, then Guangzhou outperforms Hebei as it's easier to collect all the items and ship together.
If you order a huge quantity of average quality handbags, you can't miss Hebei as the labor cost is much lower than Guangzhou. Besides, renting costs and other operation costs are much lower.
Then where to find handbag manufacturers in Guangzhou or Hebei? Following are some commonly known ways to find suppliers online.
Search engine (Google, Baidu)
Online directories and B2B market places
Facebook groups
LinkedIn
Sourcing agents
Referrals
If you prefer meeting in person, sourcing locally greatly increases efficiency, talking face to face with handbag suppliers is a bonus you wouldn't find while sourcing online.
Trade Fairs (Canton Fair, Fashion Week)
Industry meetups
Handbag wholesale markets
A few questions to ask yourself before going into the deal with the handbag suppliers
What kind of leather goods does the factory excel in manufacturing? Genuine leather, pu or canvas?
How is the manufacturing quality of the leather goods?
What's the scale of the factory, how many workers work there, how many bags can they make per day?
What's their MOQ and delivery time?
Do they have export license or do they work with export agents?
Is your contact easy to work with? Does she/he answer calls/emails in a timely manner?
What's their quality control system? Are they ok with third party quality inspection before shipping?
What payment methods do they accept?