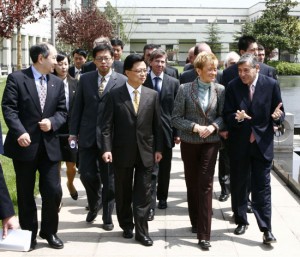 Louise Low(Architect-Planner at ICE HK, Hong Kong): For us, we incurred losses because our Clients asked us to present our ideas and concepts, took our ideas and concepts as theirs and awarded the contracts to those they were connected with. It's not only Chinese companies, but also MNCs operating in PRC. So we see our projects built, but by another architecture firm. It has nothing to do with communication, but everything to do with "guangxi".
Dani Yaacobi(General Manager at Chengdu Mingzhihui Consulting Co.Ltd): Hi, when ever you do business in China who have first to build a VERY good relationship, know the people thta you are going to deal with, have a good translator(but should not blame him/her if it did not workout).to get into the Chinese market you will have to spend lots, lots of time to understand how things being done here and of course money to build good relationship.
James Filbird(Owner at JMF International Trade Group): Good points made by all. There's no doubt that guangxi (i.e., good business relationships) is the most important "business tool" when doing business in China. Then, knowing the business culture is the second most important factor. Thirdly, knowing the language (both Putonghua and Guandonghua) since it helps you understand what is being said between both parties and it earns you respect with those involved in the project.
Demetrius Houpis(ESL Instructor at Jilin Agricultural University): Say what you want about the financial crisis inAmerica, but I've found that business ethics in China is sub-par compared to that of the West. From my experiences, as a simple ESL teacher, Chinese rarely live up to a contract that is agreed upon and are usually looking to exploit you. In their minds there is no such thing as a win-win situation. A contract signed with you is only for their benefit. We can talk about having guanxi and communication, but, IMHO, there is a significant gap in the ethical standards between that of Chinese and Americans. I'm sure there are some Chinese out there who hold themselves to a higher level, but as a general rule don't count on it. Also, I hear people throwing the word "guanxi" around too, as if it's some kind of magical password to make a profit in China, but really the Chinese have had a hard time trusting each other as it is after the Culture Revolution, so to assume that they're going to sign a fair contract with a foreigner is rather naive.
Just my 2 cents. Perhaps I'm bias because I've been backstabbed enough times while living in China.
Randall Lewis(Associate General Counsel, Asia Pacific at Danone): In my opinion understanding the language and trying to build guanxi is not key to success in China. The real keys to success is securing the right people that really understand how to manage prc investments, how to structure deals to minimize known risks and how to conduct post acquisition due diligence in order to expose brewing risks early. Doing business in Guangzhou can be less risky than people believe if you seek out people that understand howbto function in China rather than people that may simply speak Chinese or have good connections.
Francois Lucas(Executive at Experienced Operations Management Executive): A few thoughts after living for some time inChina:
– Knowing the language is definitely a plus BUT there are so many dialects and nuances that it's very easy to be put out of the loop in about any conversation and whatever your level of Chinese.
– Speaking the same language is not enough to communicate effectively. It's better to understand some cultural background and history, the mindset, the way things are done here, what motivates people, ….
– You will be respected if you are strong.
– Trust and patience are key. I met so many situations where my local partners were solving issues in the background. From the outside it "looked" very unclear and uncertain but very often the outcome was positive….
– I don't have much experience elsewhere but it seems to me that there not that many differences between doing business inChinaand doing business in another country. One need to get the local "rules" and play with them. I don't know why but it's like because it'sChina, people think it's so different and difficult.
Bernhard Wessling(Owner at BWSI GmbH): To some of the previous comments, I agree. To some others I don't:
"business ethics in China is sub-par compared to that of the West. … Chinese rarely live up to a contract that is agreed upon and are usually looking to exploit you."
"success has nothing to do with communication, but everything with guanxi"
From my experience it all depends on trust. If the business partners trust each other, then even without any contract they will never cheat each other. "rarely live up to a contract" – you can have this in every country, especially US, Southern America, Southern Europe (not so much inGermany,Switzerland,Japan). You will never make a contract with a Japanese company before they are convinced they can trust you.
I never make a contract with an American or a Chinese company before I am convinced I can trust them.
When I began in China, I had no "guanxi" and refused to become introduced into Chinese agents' various "guanxi".
I built relationship with every (potential new) customer based on reliability, I showed them myself and my company is competent and reliable. It took quite a while to become accepted, but finally it worked.
And this has a lot to do with communication, i.e., the first thing I did was to hire an engineer with excellent English & communication skills, from there we started (and I later began to study Mandarin). All of our technical reports and analysis reports are translated (in both directions), and the more important ones are always personally presented and explained.
Only by intensive communication (crossing the language and culture barrier) one can build the necessary trust fundament, then understand what is the business partner's need, only then one can successfully enter business. And such business will be very sustainable.
We have many customers here with no any break of contracts, payment delays or any other cheating. (although some customers, I admit, I had to teach, 2 of them I had to teach the hard way, now we are best business friends)