The recently closed 29th China International Furniture Fair (Also known as CIFF) on March 30, now pleasantly reports 26% growth according to the official statistic estimated.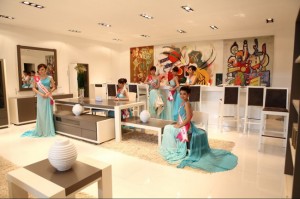 The 29th CIFF was a great event divided into two phases, occupying an exhibition area of more than 680,000SQM. Over 3,375 exhibitors from more than 29 countries take part in the special event. In addition, 178,036 buyers both from at home and abroad attend the Fair. It provides a great platform filled with unlimited opportunities in the furnishing industry for domestic and overseas enterprises.
Covering a total area of more than 350,000 SQM, Phase I of the 29th CIFF (March 18-21, 2012) drew over 1,600 purchasers from more than 20 countries. The Home Décor & Home Textile Sector occupying about 100,000SQM with 10 exhibiting halls is the largest trade fair in history with promising results for the furnishing industry.
Phase II of the 29th CIFF (March 27-30, 2012) covering a total of 130,000SQM, is the largest office furniture fair in the world with 790 well known brands from around the globe. CIFF-Office Show focused on the expansion of the hotel and public furniture sectors, forming three specialized sectors of "offices, hospitality and public furniture".
With a drastic increase in scale for 8 years, the CIFF 2012 reached a scale of 130,000SQM. 1,046 companies around the world including the pavilions of German,Canada, US, Spanish, Turkish and Italian took part in the exhibition. 242 exhibitors around the world participated in the event, accounting for 23% of the total. CIFF 2012 boasts exhibitors from more extensive regions as well as various products and the latest technologies when compared with the session last year..
CIFF got lots of praises for its gorgeous trend presentation, brand cultivation as well as impeccable image displays. It is held concurrently with the 4th CIFF Design Gallery, which offered a platform for talented students and designers to display and communicate with each other.