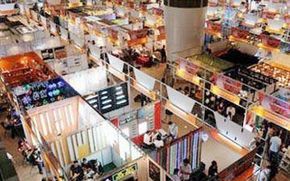 The spring session of the Canton Fair, or the 111th China Import and Export Fair, comes to a close on 5th, May, with a slight decrease in export transaction since the year 2009.
According to Liu Jianjun, spokesman of the Canton Fair, the total value of export transactions decreased by 2.3% year-on-year to 36.03 billion US dollars, or dropped 4.8% than the figure at the autumn session of the Canton Fair.
The severe economic crisis hitting the world since 2008 accounts a lot for the decreased in export transaction volume, according to Liu. What's worse, awful job market in the US and severe debt crisis from theEuropehave worsen the situation, and they also lead to the decrease of export transactions.
The good news is that this year has witnessed sharp export transactions in new markets including Brazil, Russia, India, South Africa and other African countries; however, there is still a large gap between the huge shortfall from American and European markets.
The buyers taking part in the spring session 2012 Canton Fair totals to 210,000, breaking all the records since the fair's establish in 1957.