Want to avoid the huge crowds while travelling around China? Plan to come to China for business and make sure all the China wholesale markets and factories are open during your visit? Check the following 2018 China public holiday arrangements and start planning to make the most out of your trip.
Numbers in green: public holidays
Numbers in blue(on weekends): work days, make-up days for public holiday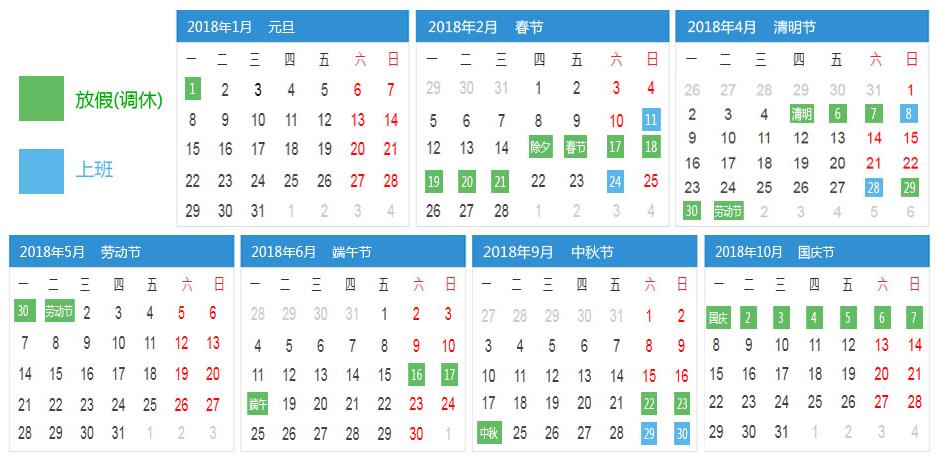 2018 New Year/30, Dec, 2017—1st, January, 2018
2018 New Year holiday started quite earlier in China from 30th, Dec, 2017 to 1st, January, 2018. The best thing about it was the New Year 2018 drew on Monday, adding an extra day off following the weekend.
2018 Chinese New Year(also known as Spring Festival)/15th—22nd, February
Chinese New Year is a time to avoid whether you are travelling in China or visiting China for business purposes. It's known as the biggest immigration in the world as billions of people are commuting usually back their hometowns for family getting together.
The 2018 Chinese New Year fell from 15th February to the 22nd, February with the 11th and 24th workdays as make-up for the 7-day holiday.
Qingming Festival(also known as Tomb Sweeping Day)/5th–7th, April
2018 Qingming Festival falls on the 5th, April on Thursday. The following Sunday is moved to Friday to make it a 3-day holiday, thus, the following Sunday 8th, April is a normal work-day.
May Day(also known as Labor Day)/29th, April—1st, May
2018 May Day falls on Tuesday and the previous Saturday is removed to Monday so as to make a 3-day holiday, so the 28th, April on Saturday is a normal work-day.
Dragon Boat Festival/16th-18th, June
The three-day Dragon Boat Festival starts from 16-18th, June, and the 17th coinciding with Father's Day as it is on Sunday.
Mid-autumn Festival/22nd-24th. September
Mid-autumn Festival falls on Monday on the 24th, August, and it's announced as a 3-day public holiday combining the weekend.
Chinese National Day/1st-7th, October
The second busiest golden-week holiday as usually it usually has 7 days, most people would consider going back their hometowns or travel around.