Have you ever used a tech pack before? If you're in the apparel industry whether you're a clothing brand or a fashion designer, chances are high that you're not unfamiliar with the term. It's mind-blowing how often people are confused by what exactly a tech pack is even though it's quite a standard term.
Every week we receive many inquiries from startups especially those who have completely no clue what kind of tech pack is needed to launch their private label clothing line. When asked if they have their designs or sketches, typically 70% would send us pictures that have nothing to do with the name.
Every business starts with a vision, and it's time to turn your ideas into saleable products with the assistance of clothing manufacturers. The success of your clothing business relies heavily on how well the idea is executed, and preparing the right specifications in advance will set you off on the right track.
What's a tech pack?
In simple words, a tech pack is a bridge between your design and the final product. It's a comprehensive packet of design details including information of raw materials, trims, size charts, etc. in technical drawings that will help a textile manufacturer produce the clothes to your exact specifications.
A tech pack includes all the thorough and accurate details regarding your product to get quality samples made without any surprises in the production process.
Why do you need a tech pack?
If you don't want to be financially responsible for any errors due to inappropriate interpretation of your ideas, it's imperative to have a detailed tech pack ready before engaging in a conversation with a clothes manufacturer.
Checklist of a standard tech pack
Providing your garment manufacturer with the right specifications leaves less room for guesswork. When it comes to making tech packs, every brand or designer has their own check list. Here're a few essential components a standard tech pack should cover.
Garment illustrations
Your tech pack should cover a digitized sketch or a black and white hand drawing sketch showing the front and back views of your design.
Bill of materials (BOM)
The bill of materials will give you a list of raw materials used to produce the clothes, including details about the fabric, color number, lining, trims, thread color and thickness, buttons, zippers, sewing labels, etc. It's suggested to include swatches of actual fabrics, sample of buttons, etc.
Garment specs and Point of measurement (POM)
A good tech pack should also include size specifications though some big, established factories already have their size charts. The size charts vary depending on targeted market. Some clothing brands use under-sizing as their marketing strategy as usually women feel good if the sizes of their clothes are smaller than what they actually are. It's important to to provide your size charts or talk to the clothes manufacturers.
Color choices
Marking down the name of the color, Pantone code or providing color swatches is essential to get the exact look of the garment.
Here we list some "designs" we used to get which we strongly advise you to avoid, for better manufacturing purpose.
Tech pack mistakes to avoid
1. Pictures taken from Alibaba, Instagram or some brands' websites
Some people tend to mistakenly believe these are their designs. During Canton Fair, usually we get lots of enquires asking to meet as they couldn't find anything in Canton Fair for private label clothes manufacturing. However, 80% sent us pictures they took from Alibaba or somewhere else and claimed as their designs, to produce the same models and put on their logo tags.
2. Simple drawings
Neither can any China clothes factory produce private label clothes for you with these "designs".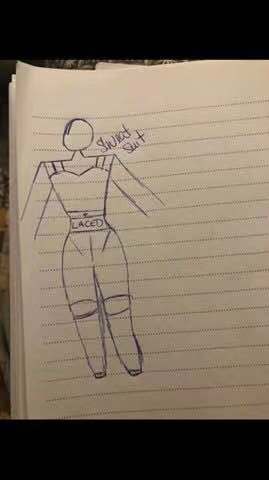 In the meanwhile, following are designs/sketches for private label clothes we prefer as reference, for better manufacturing quality.
A good tech pack/sketch should be unique/your own idea, covering the structure of the product, measurements, choice of raw materials, accessories, manufacturing ways, e.g., print or embroidery.
3. Tolerance
Even though you've provided a perfect size chart for your clothing factory to provide, the manufacturing of garment is manually done by humans that might pose small margin of errors. As a saying goes, many a little makes a mickle. Leaving small margin of errors undefined would lead to unknown large margin that can be devastators to the final products. It's important to make sure all the measurements in your POM come with their own tolerance, a commonly accepted one is 1/2" or 0.5cm. The length of the measurement plays a vital part in the tolerance, i.e., a longer measurement usually comes with a bigger tolerance.
The same goes to the color difference.
4. Visual representation
It's ideal to use easy to understand visual representation to convey your ideas, so things wouldn't get lost in translation. Imagine the tech pack is created for Chinese clothing factory workers, most of whom don't speak English at all, let alone reading English. When drawing the digrams, it's essential to keep them accurate and easy to scale so people who don't speak English understand the measurements without reading the description. Avoid confusion, guesswork that wastes the factory's time, leading to delay of your order or extra costs.
5. A simple design change can lead to production delays
Many fashion designers or tech pack makers only have general idea about clothes manufacturing process, and very often they tend to ignore the impact of a sudden change of tech pack has on clothes sampling and mass production. Make sure you have a well-made confirmed tech pack before engaging the clothes manufacturer into sampling process.
Creating a perfect tech pack is a time-consuming and tedious process due to the amount of details involved. However, all the efforts pay off at the end when you get the final saleable products.