I am trying since a few days to figure how to open an account on Taobao but it seems that although an Email verification is available, it still needs a mobile number to send a SMS to (as an extra verification). The mobile number should be from Mainland, HK, Macao, Taiwan or South Korea…
I found a couple of websites that offers receiving free SMS on HK mobile numbers, however it seems that the SMS is not coming…
Is there someone who would help me in this?
Thanks a lot in advance.
P.S. I don't need to buy things so an Alipay is not necessary — I just want to have access to Taobao's Messenger (WangWang) in order to contact a few buyers.
Once again many thanks!
–Razvan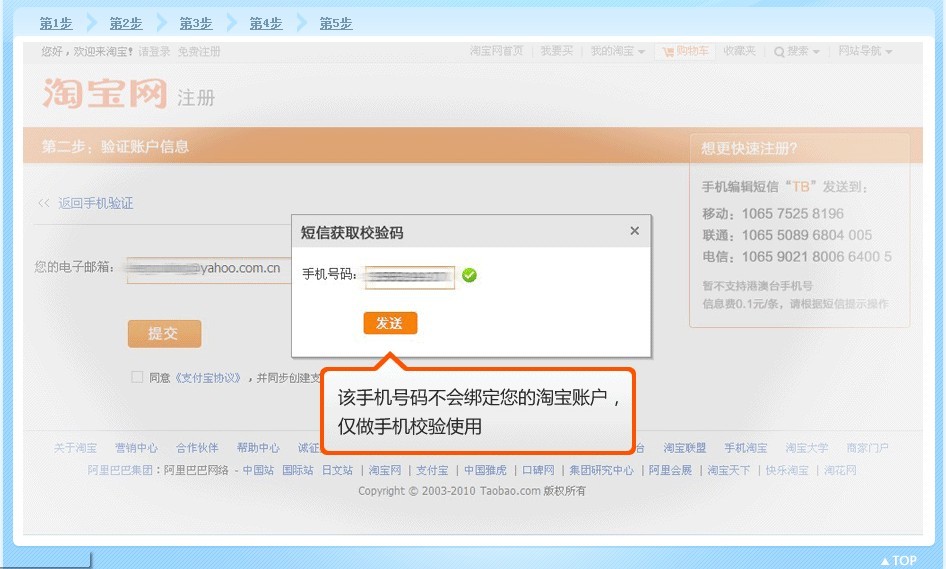 Cindy Shen: Hi Razvan,
To sale on Taobao platform you have to have an ALIPAY account, that's only way to collect you money from buyers.
As for Chinese mobile phone number, I do not know how can we help you, the system will send a message out to this number a 6 Arabic Number to verify your ID within 60 seconds availability.
I wish above are help you little bit and good luck.
Cindy
Razvan D. Toma: Hi Cindy,
Thank you very much for your kind reply.
I am not going to sell neither to buy from Taobao — what I need is just to able to contact a few sellers through the Taobao AliWanWang messenger (which is only available if you have a Taobao account).
During the registration process the system asks to enter a mobile phone number to send that registration code you mentioned. If I would just know someone (from Mainland) who would be comfortable to receive one SMS (and then send me the verification code per Email) I think I could just finish the registration process easily…
Thank you once again for your support.
Razvan
KwangErn Liew: Taobao stores usually have contact details, could be QQ, mobile, or company numbers. If it doesn't, think twice before trying to establish contact.
Joko Frank Octo: You don't need Chinese phone number for taobao account, unless you doing transaction. Alipay or any china online bank will send sms verification for every transaction as I use so far. You also need device token from the bank for doing payment transactions.
Razvan D. Toma: @Joko thanks a lot for your advice.
However when I try to register the account (even when choosing email registration) I still need to enter my mobile number in order to get a verification code SMS….
Am I doing something wrong?
cc wang: Hi,Razvan, if you want to open an account in Taobao. There are two ways: Email verification and Mobile phone number verification. However, both two ways, you have to depend on a mobile phone. If you don't have a phone number, you can not register. The only you can do is borrow a phone to receive the SMS, after registration, you can close the mobile phone number verification, the phone number just be used only once. Wish can help you.
Razvan D. Toma: Thank you very much for all your advices. Finally I made it — one friend from China had helped me with his number.
Now I am looking to setup a store — which is another story and more implications.
Thanks a lot!