After all the preparations and hectic journey, finally you arrive in Guangzhou for the 114th Canton Fair.
The First Day at Canton Fair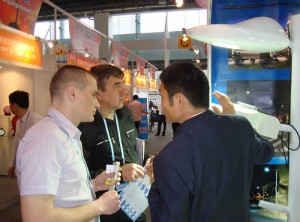 After a good night's sleep, you should be refreshed and get ready for the first day at the 114th Canton Fair.
Get a Canton Fair Catalog
The first thing you should do is to get a Catalog for the 114th Canton Fair and retreat to a nice place where you can make plans for meetings.
Carry out Meeting Plan
You should keep record of the booth numbers and locations of the manufacturers you are interested in. It is not hard to make plans to arrange your time and meetings based on their locations.
If you download the 114th Canton Fair Floor Plan from Canton Fair official website, then you can save time and do your homework comfortably in the hotel. It worth spending some time locating the floor plan on the internet as it would make your work at the 114th Canton Fair more efficient.
You will find time flies fast and your schedule is out of control after having one or two meetings during the exhibition time.
Suppose you are attending the 1st phase of the 114th Canton Fair for 3 days. The opening time of Canton Fair: 9:30 am – 18:00 pm, so altogether 25.5 hours in Canton Fair to find what you need.
If you have scheduled meetings with 10 potentials suppliers for about one hour each, then you end up having 15.5 hours in Guangzhou.
Other meetings would take about half an hour. Apart from that, you will only leave your name cards and collect catalogs. For a very tight plan, you would have 31 suppliers in Guangzhou.
But let's go back to reality: you have to wait until your contact person is free, you have to get something to eat, you have to go to the washroom and walk from one booth to another. You would be surprised at how little time is left for meeting additional suppliers if time is deducted.
For the 114 Canton Fair Interpreter or Guide service, please contact us.