In the free-wheeling city of Guangzhou without too much interference from Beijing, the shady business of fakes has ballooned into a thriving industry. It's not exaggerated to say Guangzhou shopping is anchored by knockoffs. When you are surfing online or roaming around the markets in Guangzhou, then you bunch into your dream Gucci shoes at only a small fraction of cost compared with the original counterparts, it is time to be aware. If something seems too good to be true, it probably is.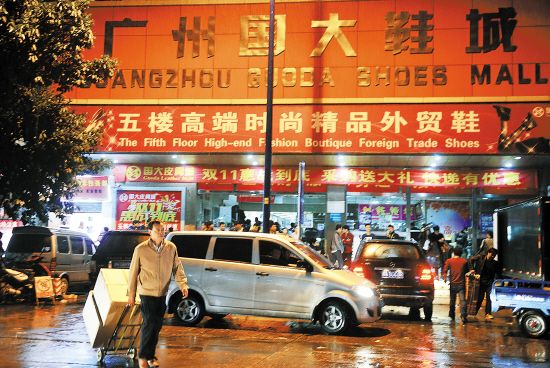 One of the most counterfeited products is footwear. If proof were needed then Guangzhou Guoda Shoes Mall that is chock full of knock-off shoes would make a compelling "Exhibit A".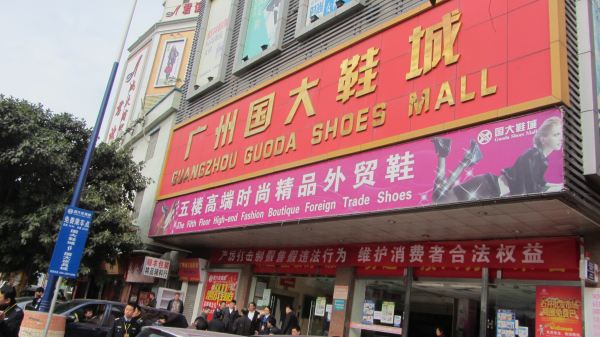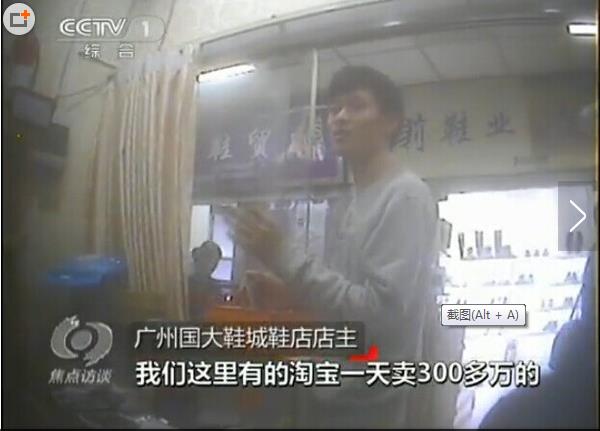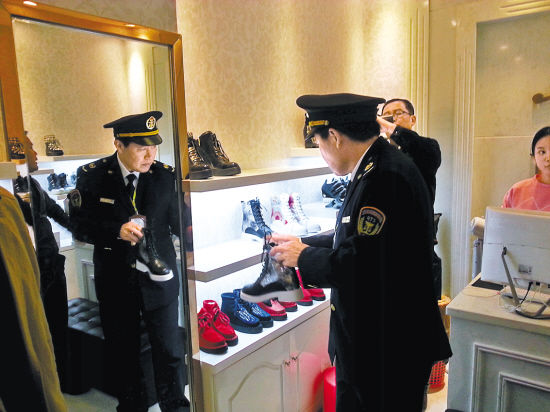 Located in the outskirt of Baiyun District, Guoda Shoes Mall is not as eye-catching while compared with other fake markets in Guangzhou Railway Station and the fake handbags wholesale market in Guihuagang. However, with business blooming measures have been taken to combat the grey business. Guoda fake shoes market was reported by CCTV(China Central Television) in 2014, became notoriously known as a grey market for fake shoes. No sooner the police raided and Guoda copy shoes market was cleaned up. Nevertheless, it's like playing the game of cat and mouse. Three years passed, now the copy shoes market is still in its heyday.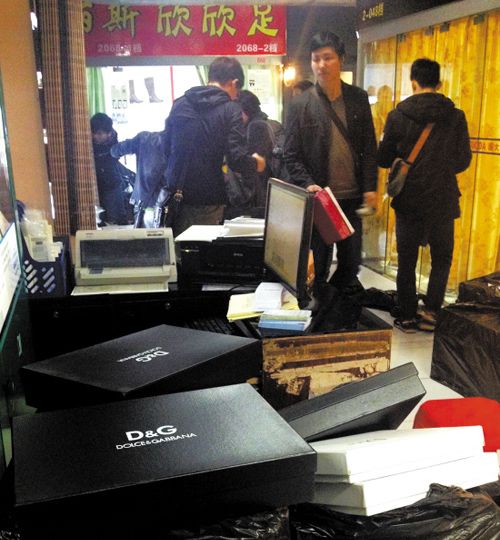 A step inside Guangzhou Guoda shoes mall, you would be welcomed by an insanely vast array of knock-off shoes in different grades. Those fake shoes with exactly the same brand tags of the original ones or purposely misspelling of certain letter were displayed prominently on the shelves, tempting tourists and businessmen alike. Here is a list of most counterfeited brands as you stroll around Guoda copy shoes market: Armani, Gucci, Ferragamo, Dolce&Gabbana, Prada, Versace, Burberry, etc.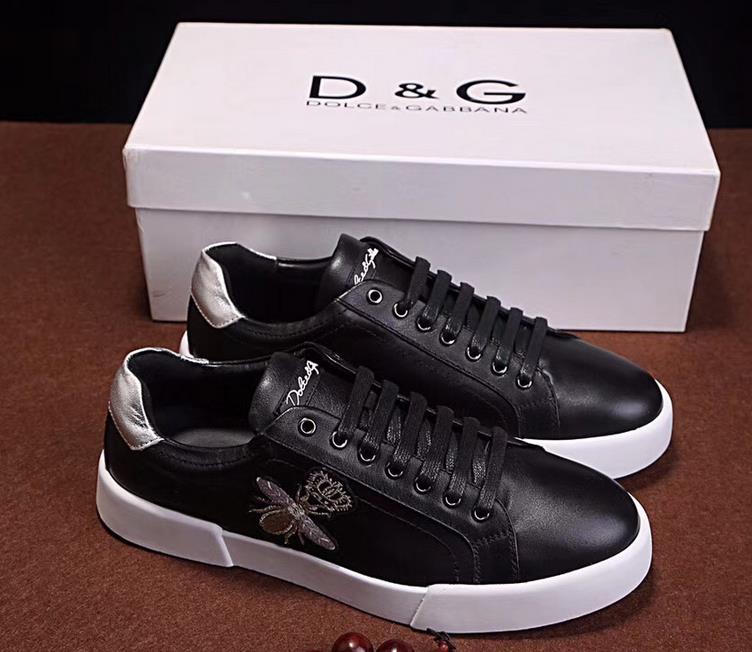 Counterfeit shoes emblazoned with brand names or names similar to original brand names can be easily found in Guangzhou wholesale market.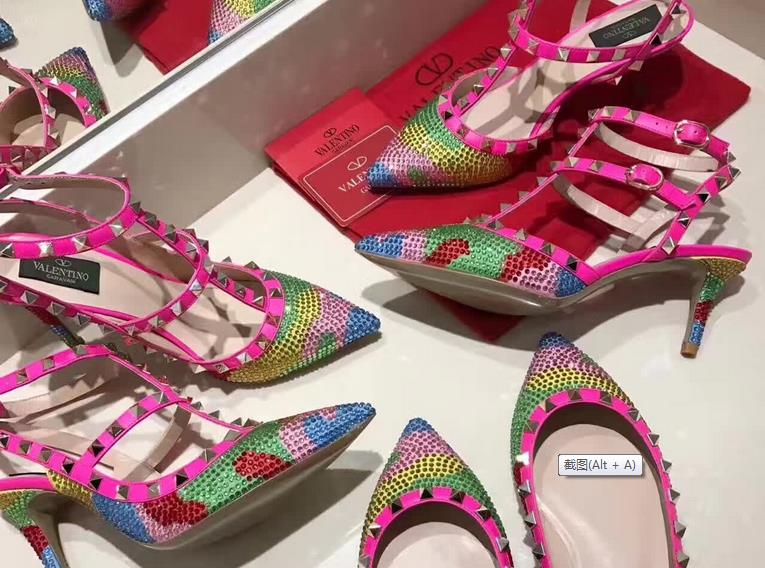 If you happen to come on the days when the police are doing their routine check, the copy shoes market is completely different as you can't find any shoes with brand names. Usually they get insider's news and remove all the copy shoes before the police come. Even though, it wouldn't make too much difference as most sales are armed with tablets and would be trying to show you the pictures of copy shoes from their wechat moments.
Guoda shoes mall is also the breeding place for countless weishang(sellers on wechat) and taobao shops. As you can see lots of shops have wechat code on the store front or on the business card. You can check all the photos on wechat and place order there.
Unlike original branded shoes that are a touch on the expensive side, A+ grade copy shoes in Guangzhou answer all what your hankerings call for without breaking your wallet. However, if you are in the hunt for copied shoes, you must be more cautious as the sellers in the fake markets tend to rip everyone off as much as possible.
Guangzhou is not the major manufacturing base for fake shoes in China. More exactly, Guangzhou is a trading center of copy shoes since it was awarded as the best city to do business in China mainland.
Most of the replica shoes in Guangzhou can be traced back to Putian, a "nest" for fake shoes manufacturing that are primarily designed for export. Over the years the knowledge of making fakes has advanced so much that even the most experienced people have a hard time telling the differences apart.
Notes:
Business in Guangzhou does not involve or advocate any kind of business related to replica goods. This post is information about Guangzhou, a special city I called home for decades.
We kindly remind you to be cautious, and stay away from fake products.  If you're on the hunt to import wholesale shoes from China, we suggest you to buy from legal channels like our partner 26 Trading with over 15 years of experience manufacturing and exporting shoes from China. They can be reached at ido@26trading.com.
View more:
Top 6 Shoes Wholesale Markets in Guangzhou You Should Not Miss