A much more familiar name, Zhongda fabric market is not hard to find with convenient location in Haizhu district. Zhongda is a household name since it is the best university in Guangdong, also known as Sun Yet-sen university.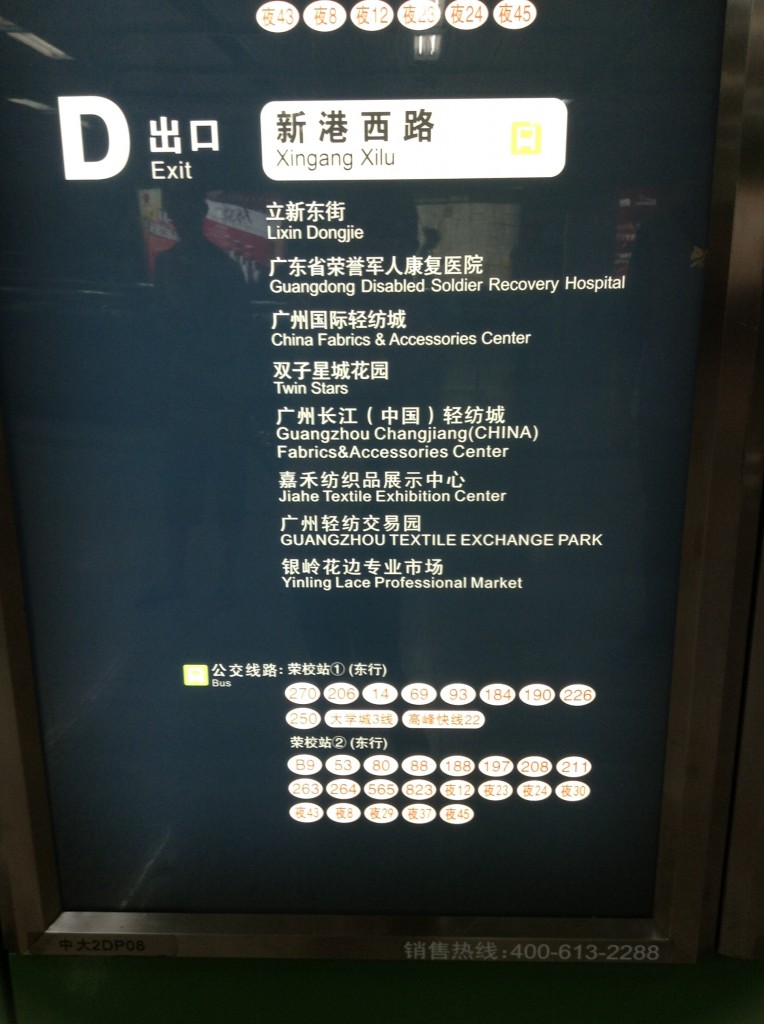 Zhongda fabric wholesale market is just adjacent to the distinguished Sun Yet-sen university, about 200 meters from D exit of Zhongda metro station. Walk straight to the right after you go out of Exit D, at the first crossroad, turn left, and walk about 100 meters you'll come to the center of the zhongda fabric markets.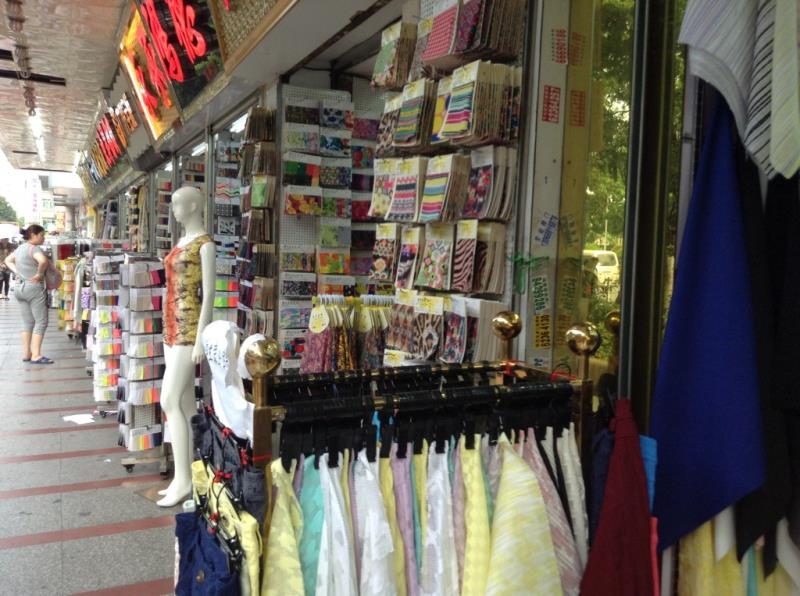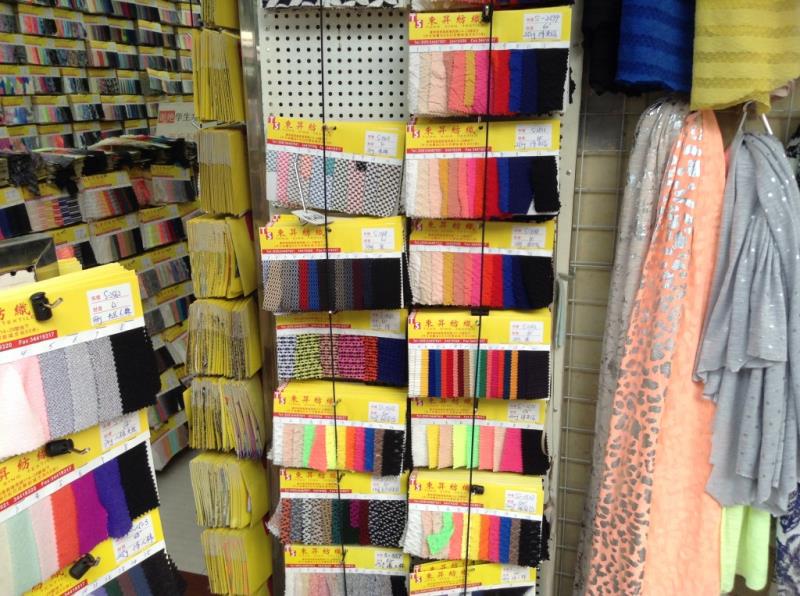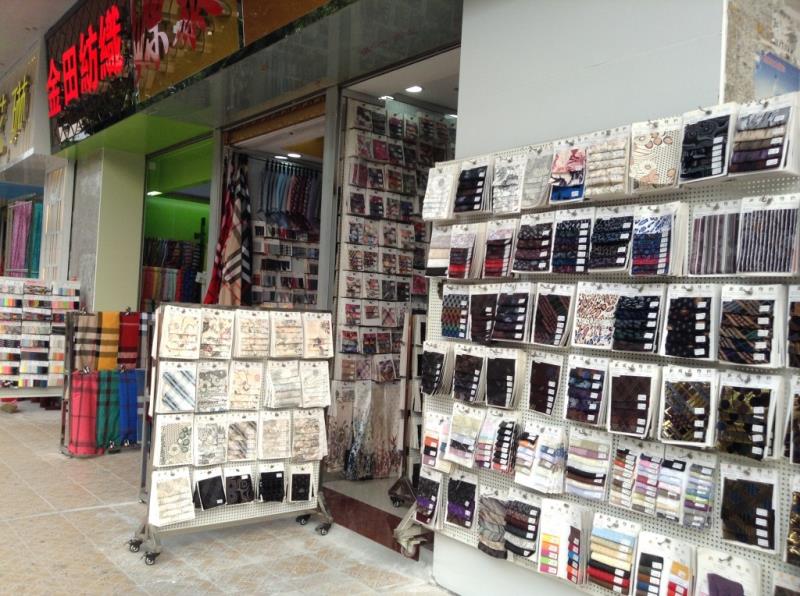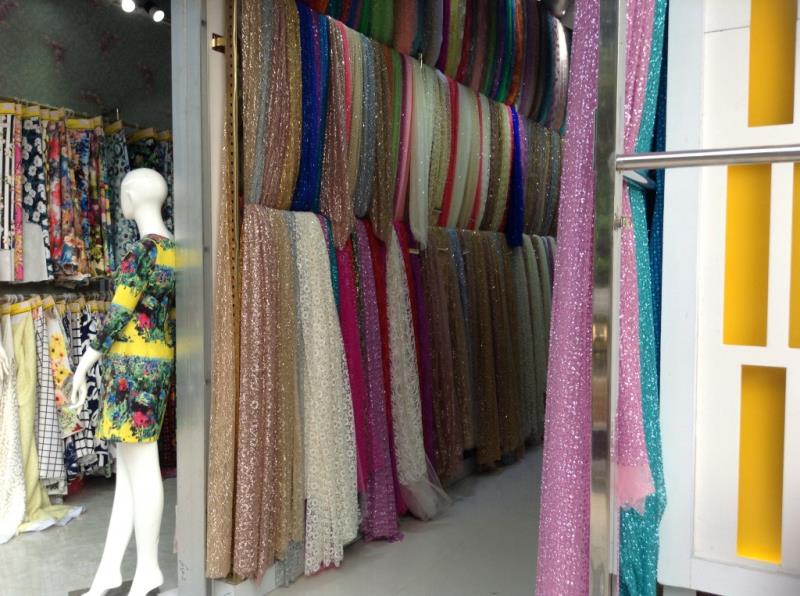 Along all the way you can find fabric shops of any sizes on the roadside as well as fabric wholesale markets. Almost all the shops have free samples available hanging on the storage racks. For some fabrics without free samples hanging on the storage racks, you can also ask the sales person to cut a small piece for you, usually it is free. As to the price of fabrics on the roadside, most are about 12, 14 rmb or around one yard. For really good quality ones, might cost about 20 or 30 rmb one yard. In general, it is very cheap there and you have lots of options.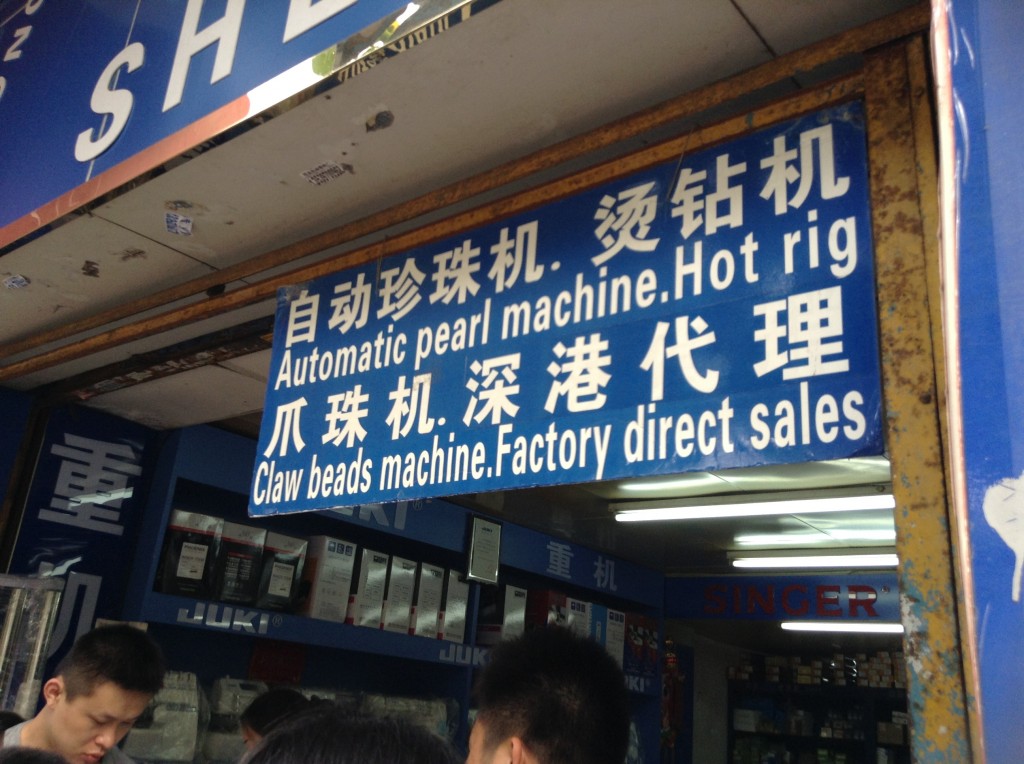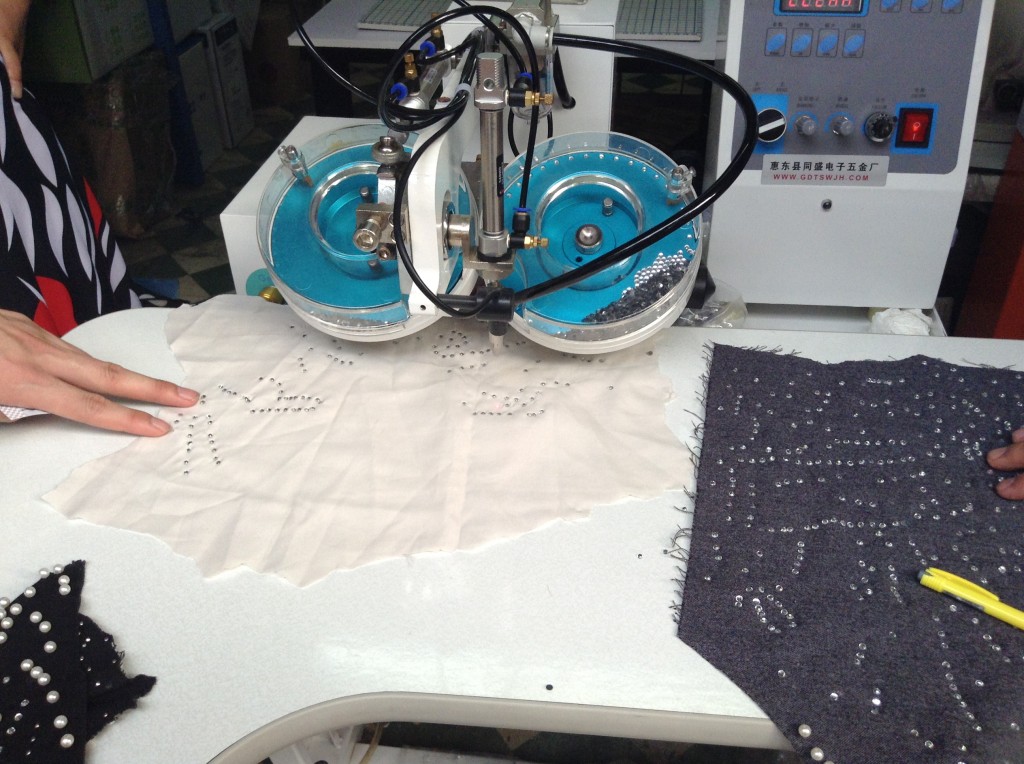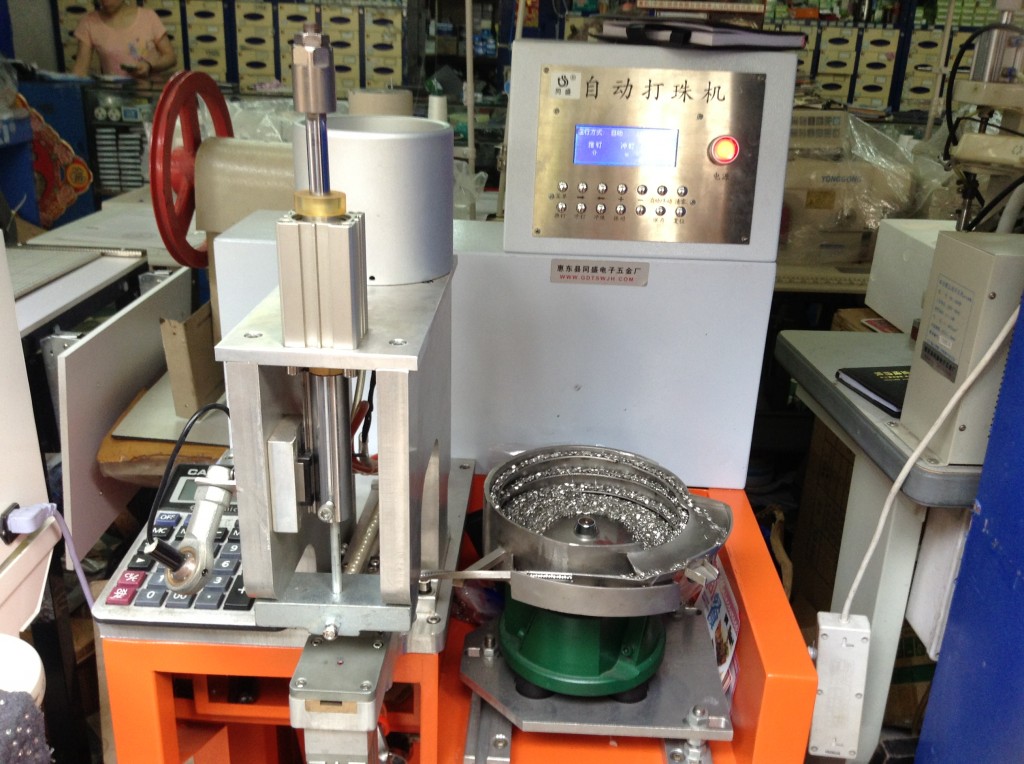 Apart from fabrics, you can also find machines related to fabric industry such as automatic pearl machine, claw beards machine, hot rig, etc.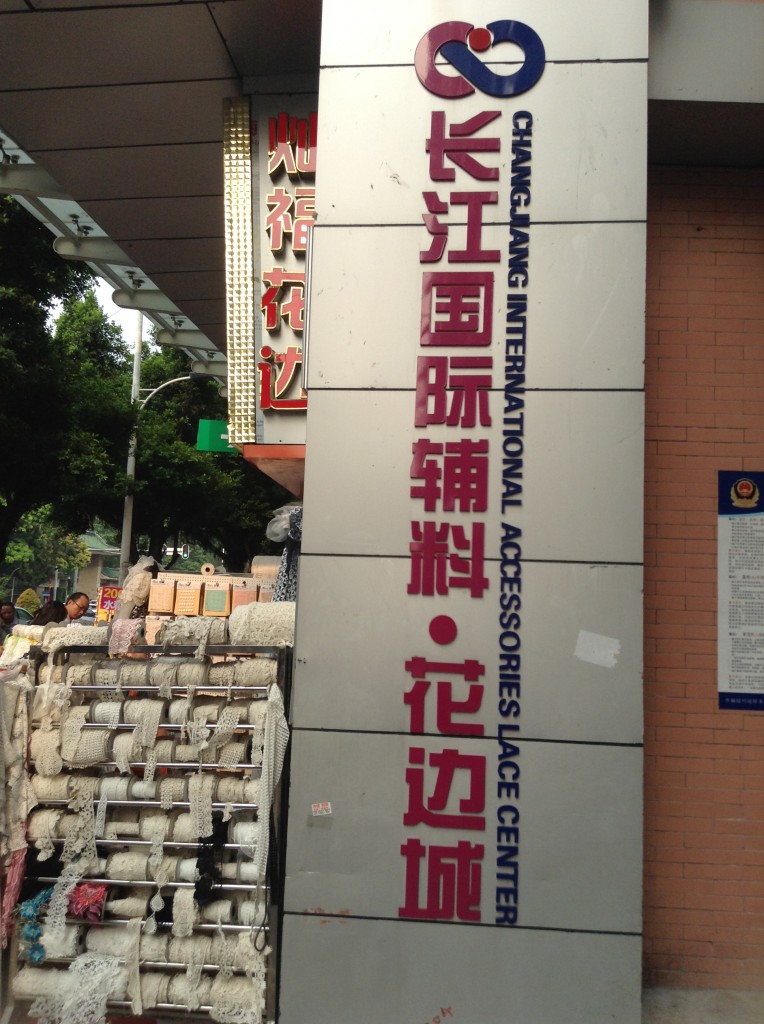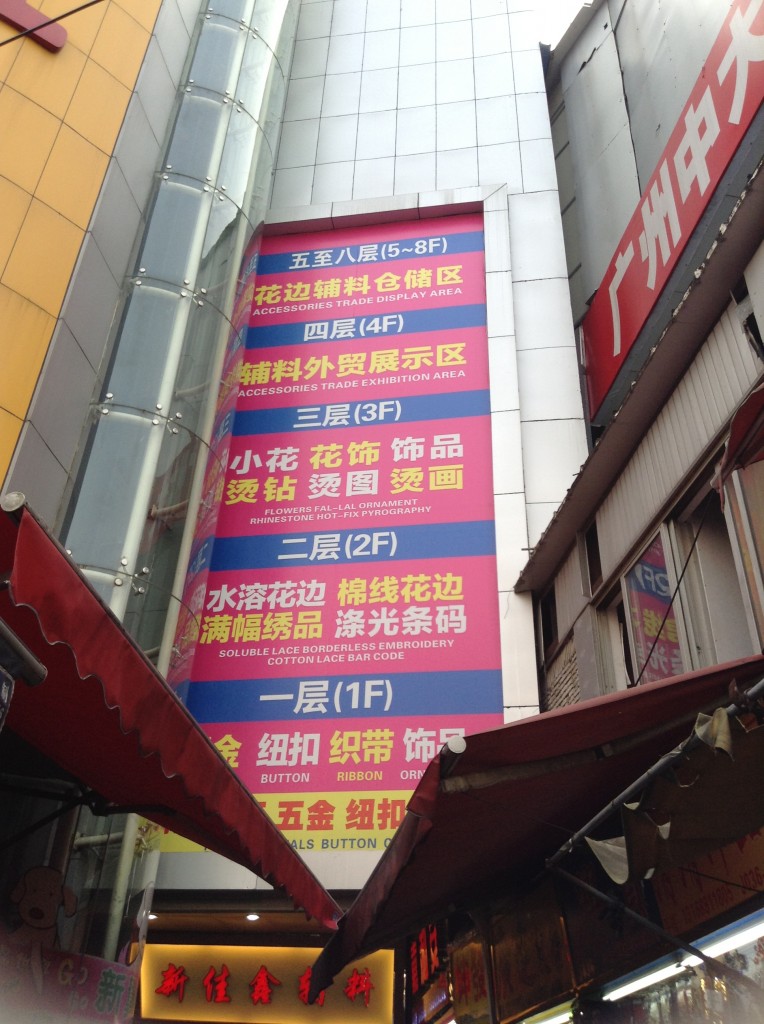 There are lots of fabrics wholesale markets along the road. The first one is Changjiang international accessories lace center, specialized in clothes accessories and lace. Here you can find lace of various patterns.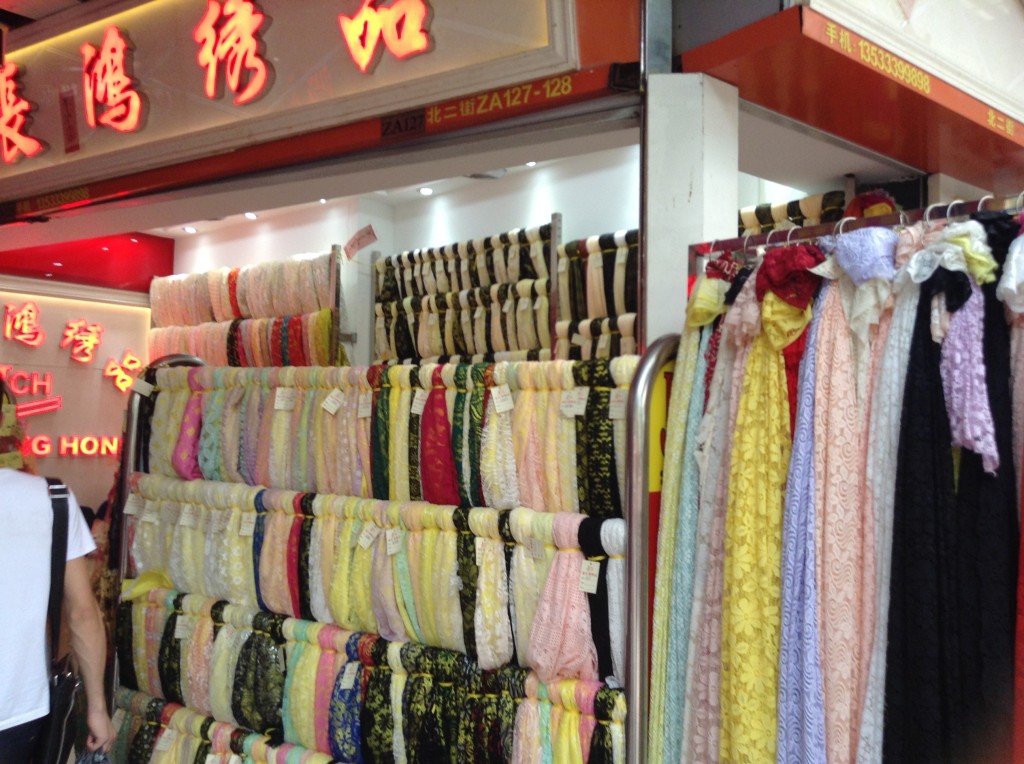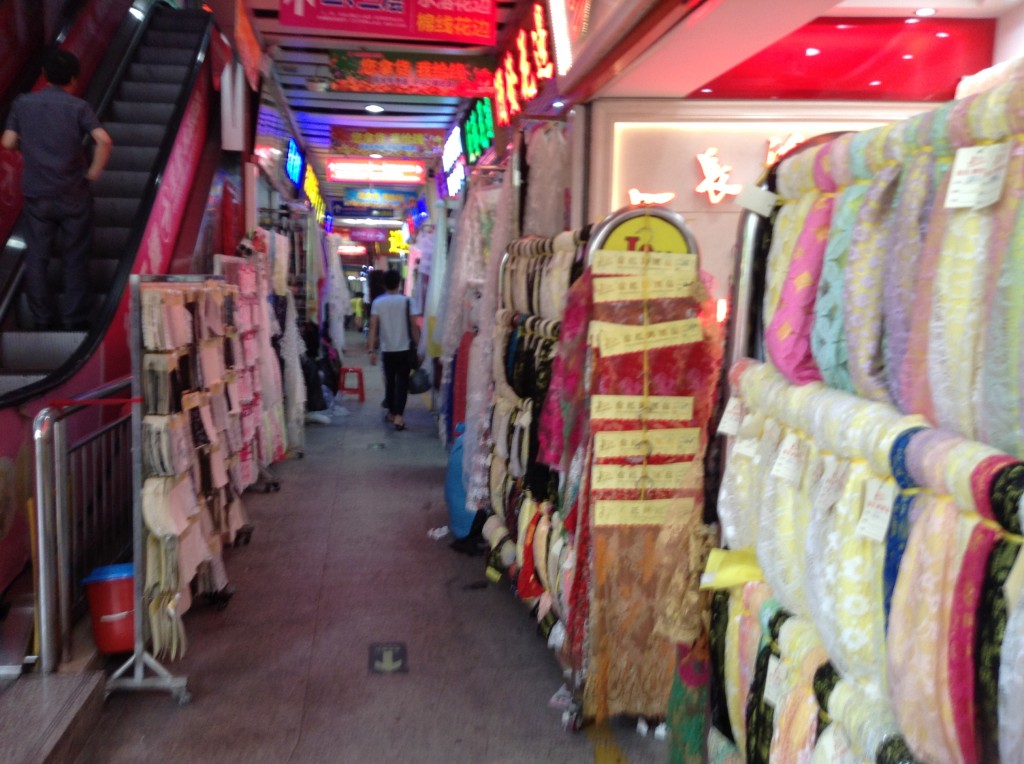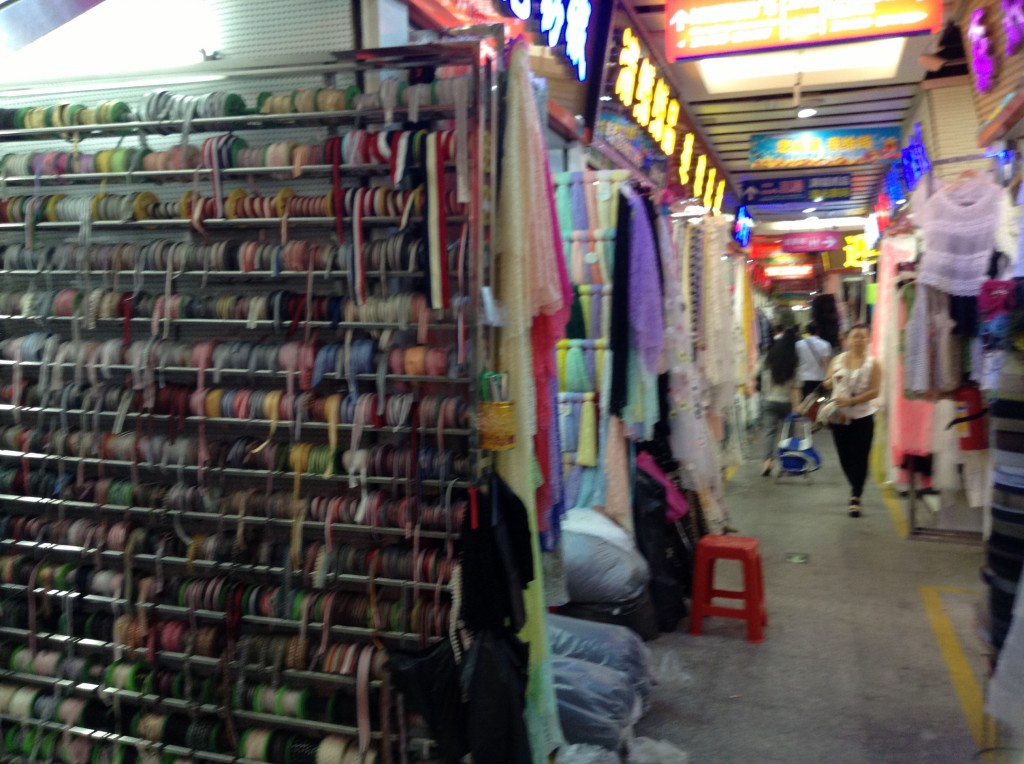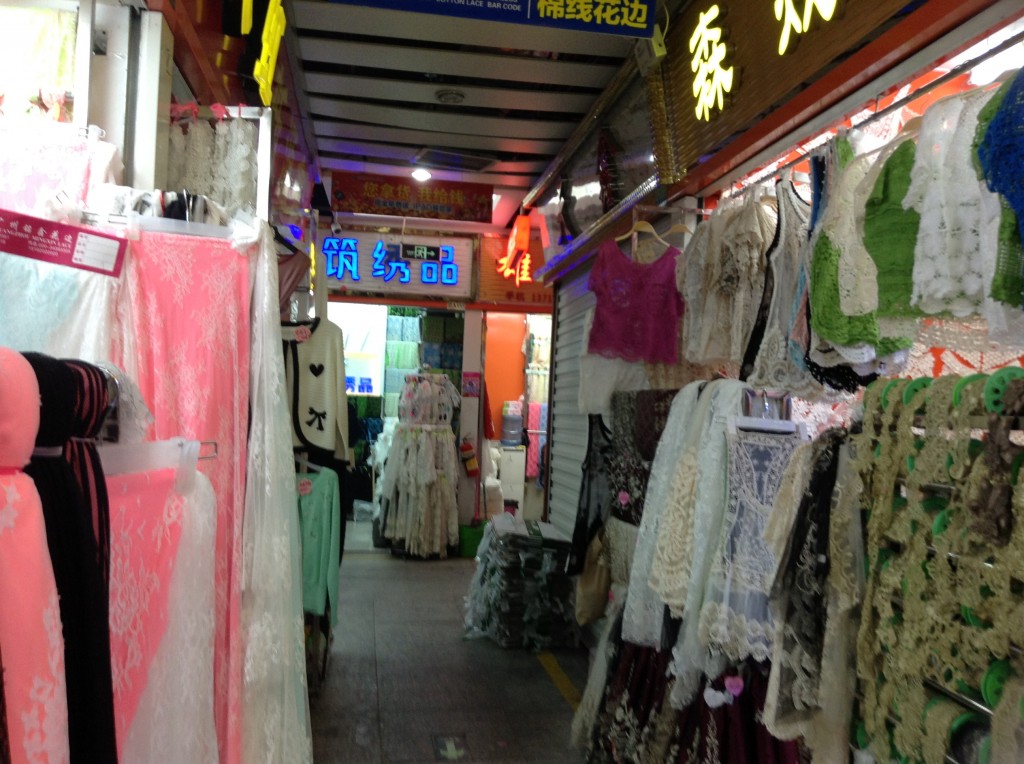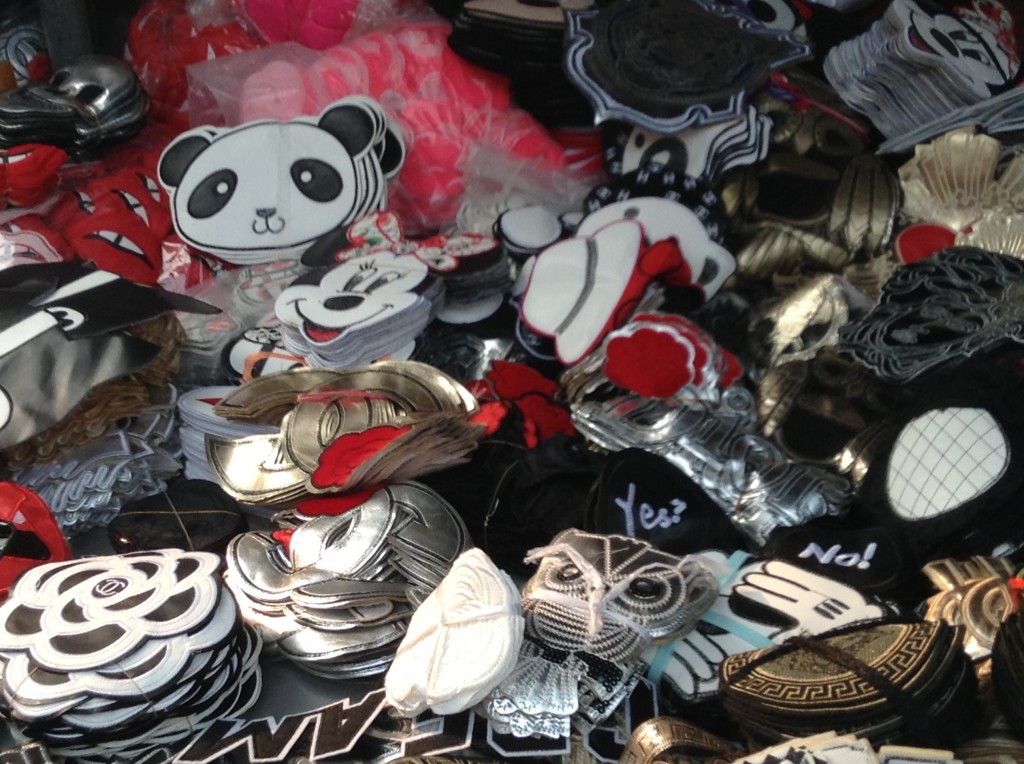 The other one nearby is Changjiang garment accessories center, focusing on solube lace, border-less lace, cotton lace, bar code, as you can see from the billboard.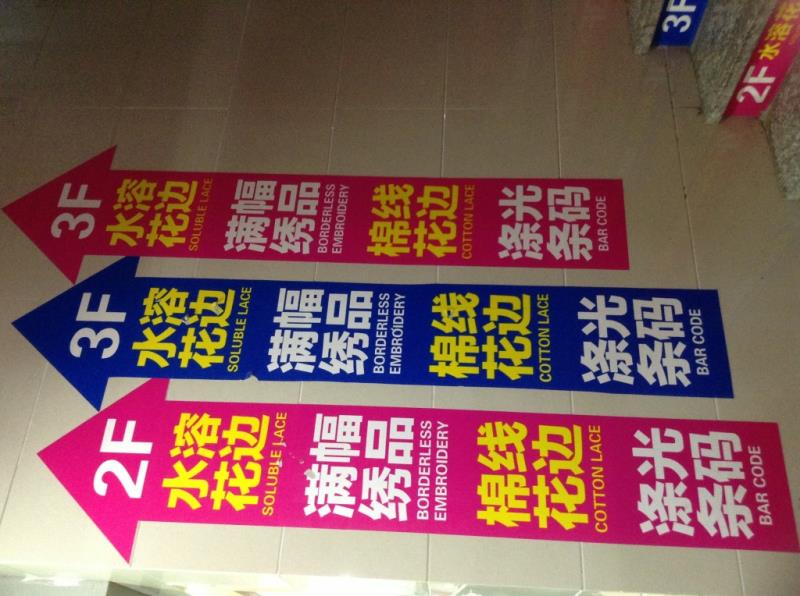 There are also a vast array of wholesale fabric markets on the opposite side of the road at a glance. The one facing Changjiang fabric wholesale market is Yin Ling Kuan Da Accessories City, also specialized in different kinds of lace.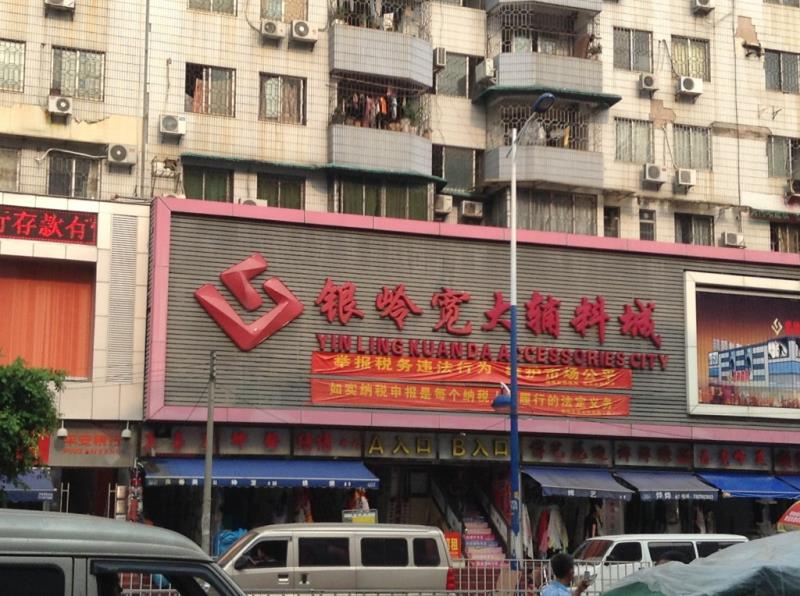 Usually the fabric markets consist of several streets. And be careful of the vehicle rushing out when you are going into the streets. I can say without exaggeration that Zhongda fabric wholesale market is the most dangerous wholesale market in Guangzhou among so many wholesale markets I've been to. In almost all Guangzhou wholesale market, vehicles of any sizes are not allowed inside the markets, but for Zhongda fabric market, that's completely different story. You have to watch your step every minute as vehicles come from every corner and every direction.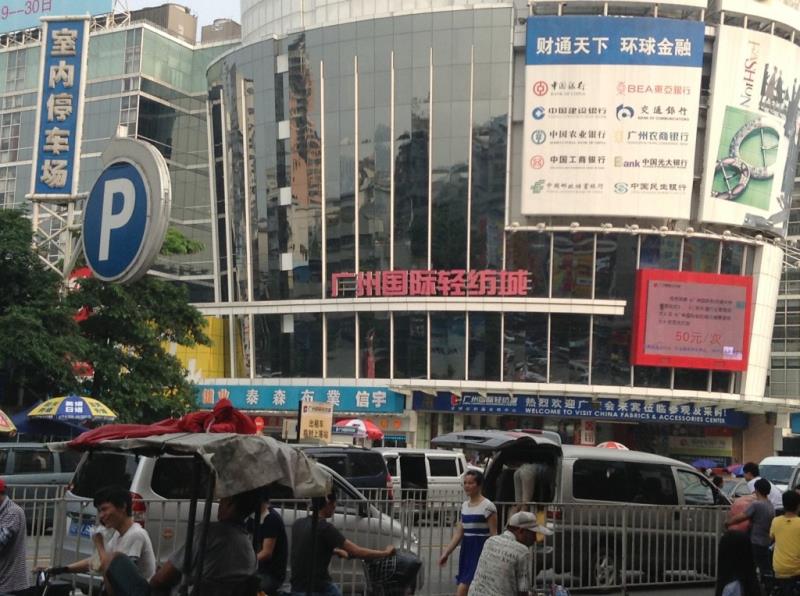 Walk straight for about 20 meters from Changjiang fabric market, then you'll come to the center of Zhongda fabric wholesale markets. On the opposite side, you'll see a large, circular shaped building, and this is the largest, best know wholesale building here, Guangzhou Fabric Accessories Center, also known as China Fabrics Accessories Center. Here you can almost find anything ranging from fabrics to accessories. In the next blog post, we'll dig more into China Fabrics Accessories Center.