Dim sum, which means "touch your heart" in Cantonese, are snacks popular in Cantonese speaking province of China, Hongkong and Macau. The variety of Dim sum has been improved a lot from chicken feet to pork buns and some restaurants can serve about 150 different dishes. If you take a stroll in the local community of Guangzhou or Hongkong in the morning or afternoon, you can always spot locals with family or friends going for dim sum, which is also known as yum cha, drinking tea in Chinese since dim sum are usually served together with tea.
If you are planning to visit Guangzhou, the birth place of dim sum, eating it there accompanied by Chinese tea is a bucket-list experience you can't miss. In light of that, I've put together my top 5 dim sum dishes in Guangzhou.
1. Crystal Shrimp Dumplings(Har Gow)虾饺
Shrimp dumplings are usually filled with whole shrimp in a translucent wrapper. It's a must-have dim sum staple and how precisely the ultra thin, delicate wrappers are folded is a way to judge a chef's dim sum apprenticeship and the quality of a dim sum restaurant. The ingredients are surprisingly simple but the art lies in how the minced shrimp is packed neatly like a gem.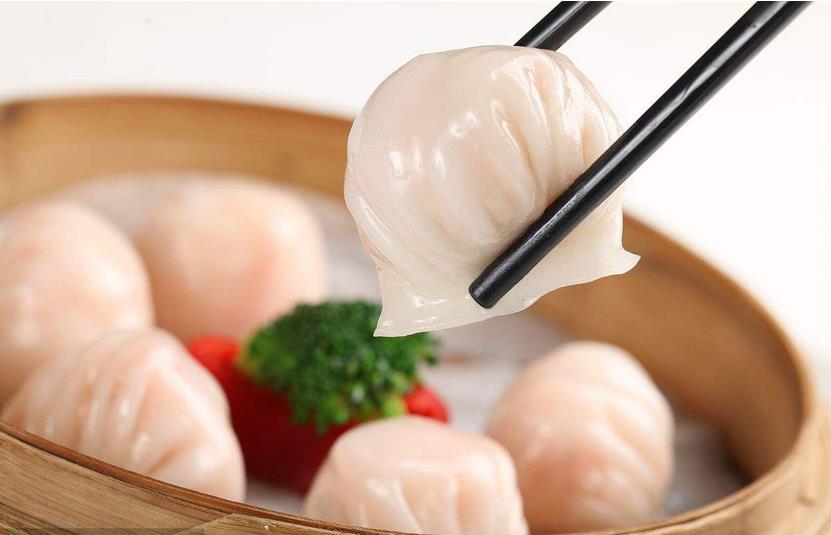 Ingredients
Filling:
1 pound 2 ounces shrimp
1 1/2 ounces pork or bacon fat
1 1/2 ounces bamboo shoots, finely chopped
1 green onion, finely chopped
1 teaspoon sugar
3 teaspoons light soy sauce
1/2 teaspoon sesame oil
1 egg white, lightly beaten
1 tablespoon cornstarch
Dough:
1 1/3 cups wheat starch
3 teaspoons cornstarch
2 teaspoons oil
2. Pork Siu Mai 烧卖
Siu mai are usually wrapped in a fresh wonton wrapper that is kept open, and stuffed with chopped pork as well as shrimp that peek out of the top when being served at the table.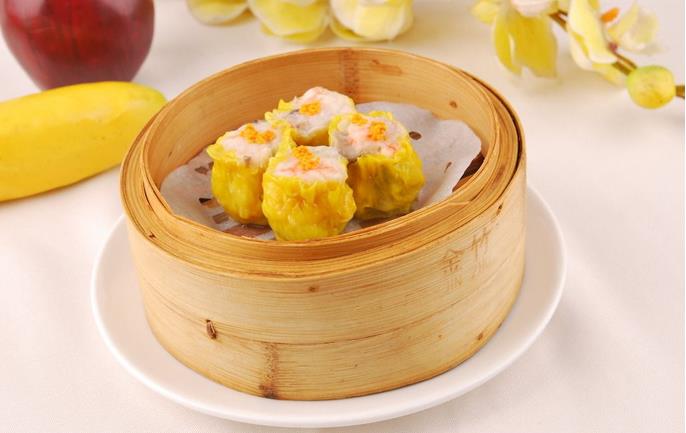 Ingredients:
6 ounces shrimp
1/2 cup peeled water chestnuts
1 pound ground pork
2 tablespoons light soy sauce
1 1/2 tablespoons Shaoxing rice wine
2 teaspoons sesame oil
1/4 teaspoon ground black pepper
2 tablespoons chopped ginger
1 green onion, finely chopped
1 egg white, lightly beaten
2 tablespoons cornstarch
30 square or round egg dumpling wrappers
3. Steamed Pork Buns(Char Siu Bao)  叉烧包
A classic dim sum dish, steamed pork buns are usually filled with roasted pork encased in white dough, then steam. After being steamed, the tops of pork buns crack open a little bit and you can see the fillings when being served at the table.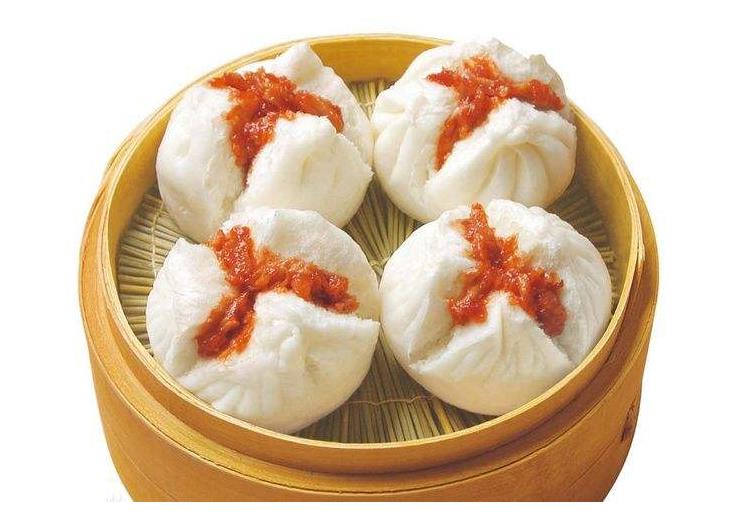 Ingredients
Yeast Dough:
1 1/2 teaspoons instant dry yeast
3/4 cup lukewarm water
2 tablespoons canola oil
2 tablespoons sugar
2 teaspoons baking powder
3 cups flour
Filling:
1 tablespoon sugar
1 tablespoon soy sauce
2 teaspoons oyster sauce
1 tablespoon water
2 teaspoons canola oil
salt and ground white pepper to taste
2 scallions, chopped white and green parts
1/2 pound char siu, diced
1 tablespoon Shaoxing rice wine
1 1/2 tablespoon cornstarch dissolved in 2 tablespoons water
4. Spring Rolls 春卷
Spring rolls are a staple dish in Asia and every country seems to have their own way of making it. The Cantonese spring rolls are usually stuffed with minced meat, shrimps and vegetables in a think wrapper, then deep fry into golden color that's considered auspicious in China.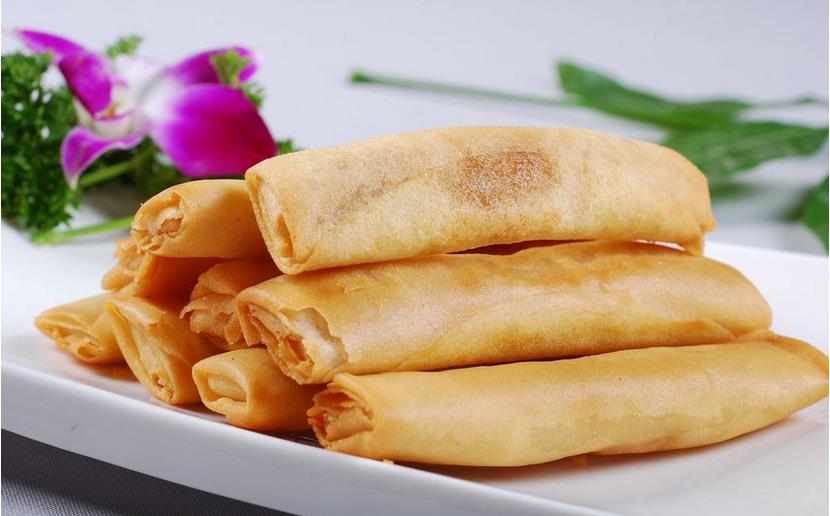 Ingredients
Filling:
6 dried black mushrooms
1/4 pound lean ground pork
1 tablespoon soy sauce
1/4 teaspoon sesame oil
Pinch of cornstarch
10 medium raw shrimp, shelled and deveined
1 tablespoon Chinese rice wine
1 teaspoon cornstarch
1 cup bean sprouts
1/2 red bell pepper
4 green onions
1/2 carrot
1 cup shredded Napa cabbage
Sauce:
2 tablespoons oyster sauce
1 tablespoon Chinese rice wine
2 tablespoons dark soy sauce
1 teaspoon sesame oil
1 teaspoon chopped garlic
1 teaspoon chopped ginger
24 spring roll wrappers
4 cups oil for deep-frying, plus about 6 tablespoons for stir-frying
5. Egg Tarts 蛋挞
Egg tarts are usually made from creamy egg custard that are encased by buttery pastry crusts, then bake.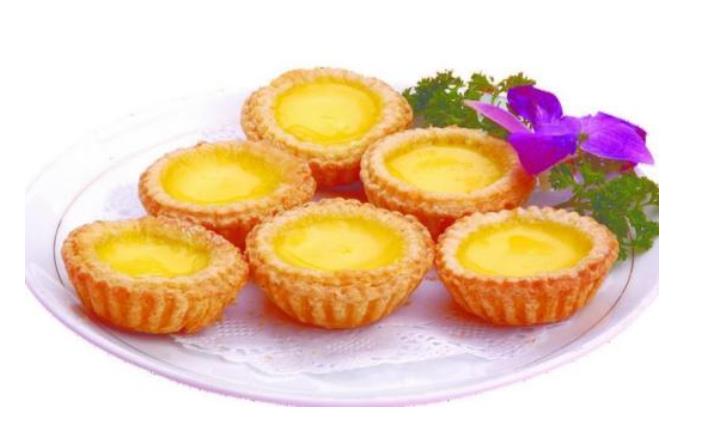 Ingredients
Pastry:
3/4 cup butter, softened
1/3 cup powdered sugar
1 egg
1/4 teaspoon vanilla extract
1 1/2 cups flour
1/2 tablespoon cornstarch
Filling:
1/2 cup sugar
1 cup water
3 eggs
1/3 cup evaporated milk
1/4 teaspoon vanilla extract
12 tart tins (3″ x 1.5″)