Polo shirt is not just a t-shirt with a collar, it's a durable, flexible and comfortable shirt that can be worn on all occasions especially at the work place. Company polo shirts featuring brand logo have many benefits that should not be underestimated.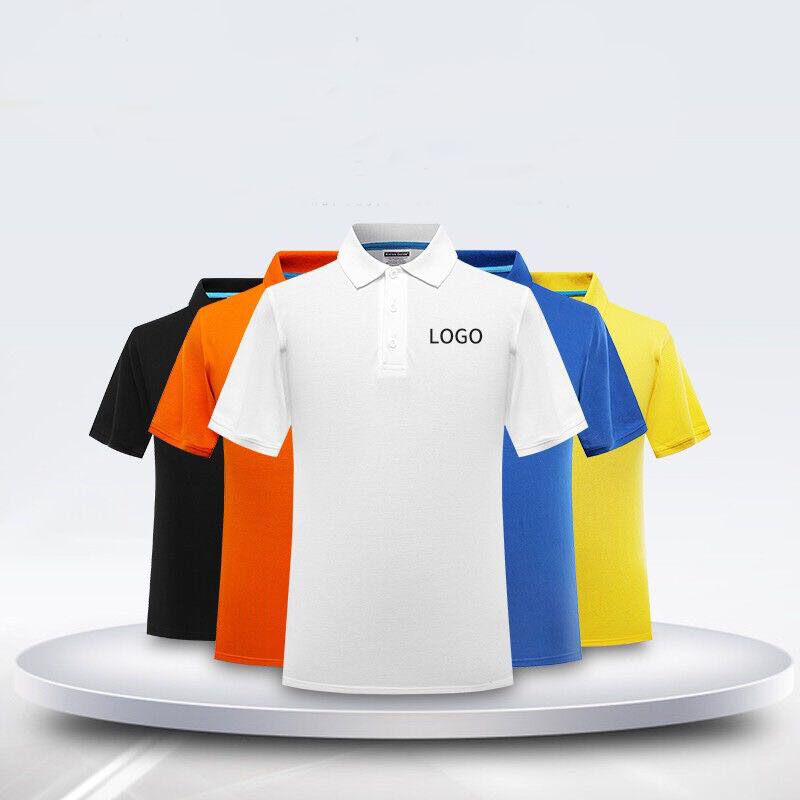 With over 13 years of experience in private labeling clothing from China, price-quality value and industry knowledge, we've managed to provide private label company polo shirts combining highest quality and smooth delivery at factory prices for you. Ordering business polo shirts from China is simply a breeze, you can have wholesale custom polo shirts for your firm, school or other events at substantially much less than other brands. Our customized company polo shirts are specially geared to build brand identity in style whether it's for a casual setting after business hours or company outings.
Regardless of the scale, many companies tend to produce their own private label shirts with logo. We have forfeited the classic neck collar label with a logo imprint. With an MOQ of 1000 pieces, we'll put on your company logo either printed or embroidered, logo tag woven or printed, hang tags, washing tag, size tag, etc. Besides, we also offer an extensive range of custom fabrics, matching buttons for you to choose from.
Advantages of Our Custom Corporate Polo Shirts
* A huge range of fabric to choose from, including Pima cotton, cotton mixed with polyester, spandex, silk blends, etc.
* Over 100 colors to choose from.
* A wide collection of matching color buttons to choose from.
* Custom logo, print or embroider your logo on the sleeve and chest for polished and professional corporate casual wear from China.
* Custom tag, logo tag, size tag, washing tag, etc.
* Custom packaging.
* Custom size tables.
* Custom of polo styles, long sleeve, short sleeve…whatever style you like.
Do you give away custom logo shirts as gift items at events? Do the attendees want to wear the wholesale blank t-shirts from China completed with your logo? If you're a big reputed firm or the gift shirts come in nice design and premium quality, the answer is yes. Every time they wear it, they see your company logo and identity the brand value with the quality of your own private label polo shirts from China. However, for gift item company polo shirts, very few companies would spend a large sum on it. Choosing high quality private label polo shirts at reasonable prices is a challenge that many companies face.
After production many suppliers tend to just throw the wholesale custom business shirts into plastic bags. We don't. Everything we deliver is first class with impeccable quality. After production all the corporate polo shirts are steamed to remove any wrinkles, then folded with tissue and bagged individually. Your employees and other recipients of the custom polo shirts would appreciate a lot all the details that build up the perfect image of your company.
Why produce custom corporate polo shirts with us?
Our polo shirts for business purpose are available in endless choices as our experienced textile experts carefully choose the highest quality fabrics meeting any budget, our tailors and workers meticulously craft based on our quality management standards, our QC team carefully inspect every detail like whether the stitching is smooth, durable, the quality of embroidery, the measurement, etc. before the shirts go into packaging process. Our wholesale corporate polo shirts from China feature the craftsmanship and quality of mid to high end brands, yet only at small fraction of the costs.
It's a breeze to create your custom corporate polo shirts with our 5 steps.
5 easy steps to order custom polo shirts
Place order.

Send us your logo in ai.format, your custom label content.

We produce the first sample, ship to you for approval or take pictures for approval.

Mass production.

Shipping.
The minimum quantity of our private label polo shirts with full customization is 1000 pieces, including endless choices of fabrics, matching buttons, custom brand tag, washing tag, custom printed/embroidered logo…personalized services that will make your corporate shirts staples in the wardrobes.