As countries started to ease lockdown restrictions to revive economy, there's growing concern about the second wave of the pandemic that might be caused by crowded public transportation. As a result, more and more countries are encouraging their citizens to hop on their commuter bikes, a great way to get some exercises on the way to work while practicing social distancing and cutting pollution.
Worried about catching the virus? Thinking about cycling to work? Here we've compiled a list of information to help you with the decision of commuting to work by bike.
Benefits of commuting to work by bike
Avoid spreading of the virus
Cycling steps in to take the place of a car or public transport and continues to be an essential transportation mode for many, particularly those who don't own cars. The biggest advantage of cycling to work is to respect social distancing protocols, and reduces the opportunities for the disease to spread.
Physical and health benefits
Cycling to work provides essential physical and mental health benefits to get back in shape after weeks of lockdown, and can counter the downside of social isolation.
The price of hybrid commuter bikes starts as low as $100, making them a much more wallet friendly alternative for the public.
Though COVID-19 has inflicted a horrible death toll all around the world, a recent study by Centre on Research on Energy and Clean Air has discovered that Europe's lockdown is resulting in fewer deaths from air pollution, an estimated 11,000 premature deaths were avoided with improving air quality.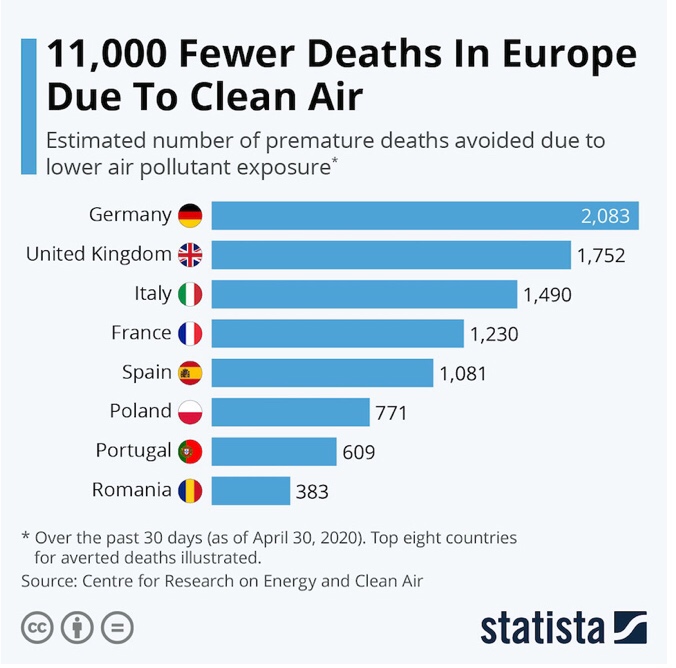 In addition, encouraging cycling as an essential way of transport provides a unique opportunity to advance green policy.
Recently Europe has witnessed a rocketed rise of cycling, as government looks to minimize spreading of the virus, boost public health and capitalize on clean air as an important measure out of COVID-19 lockdowns.
A great number of major European cities like Paris, Milan, Berlin and Brussels have rolled out both permanent infrastructure and temporary cycleways to encourage cycling, together with a series of incentives for the public like free bicycle repairs, cycling lessons, etc.
Cycle-to-Work schemes are now being implemented in many major cities. In Milan, 22 miles of roads previously used by cars have been turnt into walking and cycling paths. The government in Paris also created a new 650 km cycle way, together with some pop up options that have taken the space given to cars as cycling and walking paths.
Tips for socially distanced cycling to work
Though many countries have encouraged those who can work online to work from home during the pandemic to reduce the opportunities for the disease to spread, if it's a must that you have to commute to your work station, cycling to work is an encouraged way to avoid crowded public transportation, touching of shared surfaces and mixing with other people in limited, closed space. In addition, World Health Organization also advises people to consider walking or cycling for essential journeys whenever feasible. However, cycling should be subjected to regulations and government guidance in individual countries. Here're some great tips to get you along with what you look for before cycling to work.
Wear a face mask while cycling as there will be more movements outside with more and more people returning to work

Wear a helmet to protect yourself from any potential injury

Wear high-visibility gear if you're cycling at down or at night

Maintain regular hand washing and use of hand sanitizers, particularly with respect to shared bikes

Stay aware of what's going on around you if you like to listen to music while cycling

Keep a safe distance while cycling, leave plenty of space while overtaking or being overtaken by others to avoid pulling in rapidly and ending up in the same slip stream

Check out your local government's official guidelines for cycling to work during COVID-19
As the pandemic rages on and has drastically changed our travel habits within few weeks, bicycles remain an essential and safe way to maintain physical and mental health, and if permitted, commuting to work. Thanks to the provisions of some forward-thinking governments, cycling is getting safer and safer. Cycle-to-Work schemes have witnessed a 200% increase in the number of bicycle orders. Are you looking for import bikes from China? Don't miss our best commuter bikes in 2020.