The best place to start your international import and export business is with the China Import and Export Fair (Canton Fair) in Guangzhou, which is a bilingual event held separately in April and October.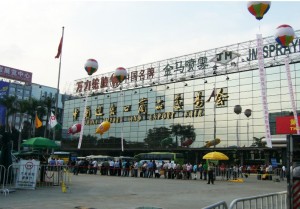 An Introduction of Pazhou Complex
CECF (Pazhou) Complex, with a convenient location in southeast part of Guangzhou Pazhou Island, is uniquely designed in an enchanting environment. The contemporary exhibition center is a perfect utilization of diverse functions including meeting, exhibition, negotiation, etc.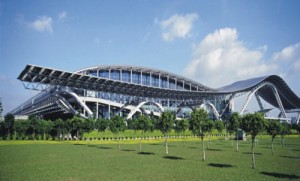 The Pazhou Complex covers a total area of about 700,000m² with 16 exhibition halls, ranking it as the largest exhibition center in Asia. The unparalleled wave like rooftop resembles the flowing of Pearl River, and also displays the dynamic spirit of the Guangzhou city. Since the 95th China Import and Export Fair held in April 2004, Pazhou Complex is adopted to hold the Fair together with Liuhua Complex. However, all three phases of Canton Fair are held in Pazhou Complex since the 104th Canton Fair with the Liuhua Complex no longer in use.
Transportation to Guangzhou
The most economic way to arrive in Guangzhou probably is to take a shortcut from Hongkong. Fly to Hongkong at first, then you can get to Guangzhou via diverse ways as the two cities are adjacent. The cheapest and easiest approach is to take a train from Hongkong Kowloon to Guangzhou East Station. About $190HK for a ticket, which equals to about ¥180 RMB.
Paperwork Needed
A rule needless to say, first and foremost, you need a Chinese Visa that you can obtain through Chinese embassy in your country. An invitation letter from a company or institution inChinais also necessary. If you are not sure about it, consulting the foreign affairs office of Guangdong province can help you get detailed information about it as policies sometimes change per session. Moreover, you need to register and apply via the Canton Fair website: www.cantonfair.org.cn
What to Expect from the Fair
The Fair is a tremendous event and covers every sector of business. Factories, trading companies or agents set up their own booths to display their products at the Fair. Take your time to walk around, and take not of the useful booths to return to after comparisons. It is meaningless to waste several hours in the first interested company while later you would come across the same thing in another booth but 20% cheaper. Once you have found out companies or products you want to know more about, talk to them and check about the following information.
1. Check whether they are representatives of a factory, agent or broke.
2. The history of their business, how long have they been in business?
3. Get the quotation for the products.
4. Check their MOQ.
5. Check the port they ship from.
6. Check the way of shipping. Do they ship by flight or by sea? Sea freight is commonly used for its low price but it takes a long time than by air.