The city sells almost everything no stranger to garment with garment markets dating back a few decades ago. You'll run into a vast array of lovely boutiques at Teen Mall if you are looking for clothes in Guangzhou, however, the astronomical price tag might probably drive you away as it is unbelievably high. So where should you opt to for clothes that can fit an average budget without compromising on quality?
It is never a difficult task to find cheap clothes in Guangzhou as there are lots of large-scale, famous markets as well as shops around Guangzhou metro lines or in the neighboring outskirt of the city.
The challenge, in the easy task of getting cheap garment in Guangzhou, is to avoid junk during your smart search. Look out not to get imitation even in branded shops or outlet stores. Some people are targeted at replica goods while others are trying to get away from them. However, a neat thing about replicas is that they are now of much better quality, especially 1:1 quality ones than they used to be. It happened to many foreigners that after using the shoes or clothes after a couple of times, they tear up because of poor quality. The following are the ins and outs of five famous garment markets in Guangzhou where you can get quality goods on a budget. However, one thing you should keep in mind while shopping at Guangzhou clothes wholesale markets: Changing rooms are rare. Don't think you can change your mind and get the money back after several days or several hours of confirming the order.
1. Guangzhou Shisanhang Clothing Wholesale Market Area 广州十三行服装批发市场
A visit to Shisanhang clothes market takes you down to the historical Xiguan area and close to Xidier electronic markets in Guangzhou and Shangxiajiu pedestrian street.
The markets in Shisanhang mainly cover four main streets: Shisanhang Road, Guyi Street, Doulanshang Road and Hepingdong Road, attracting customers from every part of the world.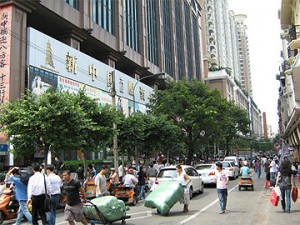 On Shisanhang Road, there are two most famous buildings including New China Building and Hongbiantian Building, both focus on retail and wholesale clothes and sports apparel for men, women and kids. Prices differ upon quantity, quality, usually it starts from 20-200 RMB. Many other shops on Shisanghang Road also offer average quality clothes at much incentive price. The opening time for wholesale stores is quite early, usually at around 5 am and close at about 1 pm.
Guyi Street is also famous for its cheap clothes. It is a narrow street between Hepingdong and Shisanhang. It is the oldest business street in Shisanhang as people have been doing business for at least 300 years, selling everything from second-hand clothes to beautiful silks. Not until 1980s does retail and wholesale business start on Guyi Street. Prices for goods on Guyi Street go from 5-50rmb.
Doulanshang and Hepingdong roads comprise the rest of the clothing market. While prices are affordable here at 10-150 RMB, its reputation for quality is not so good.
Add:  Shisanhang, Liwan District, Guangzhou
地址:广州市荔湾区十三行
Getting there: Bus 31, 38, 61, 102, 103, 106, 128, 134, 186, 202, 217, 239, 251, 288, 521, 541, 556 or 823 to Renmin Nanlu stop
2. New China Building(Xinzhongguo Dasha) 新中国大厦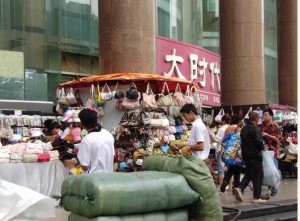 The New China Building is the largest wholesale market in Shisanhang. Most of the wholesale shops open earlier than the retail ones. The 1st floor to the third are for the young, fashionable people with quality brand name replicas at about 18-50 rmb per item. Winter is drawing close, and if you are looking for woolen winter clothes, floors 4-6 are the right places to go with prices ranging from 30-80 rmb. Floors 7-10 are mainly targeted at Korea styles clothes and they are run by Koreans. These trendy, fashionable Korea style clothes target at women in their 20's and prices are at about 100-200 rmb.
Add:  1 Shisanhang Lu, Liwan District, Guangzhou
地址:广州市荔湾区十三行路1号
Opening hours: Daily, 06:00-13:00 for markets; 09:30-1:00 for retail stores
Getting there: Bus 31, 38, 61, 102, 106, 103, 128, 134, 186, 202, 217, 239, 251, 288, 521, 541, 556 or 823 to Renminnan Road bus stop. Walk 50 meters to venue.
3. Guangzhou Baima(White Horse) Clothes Market 广州白马服装批发市场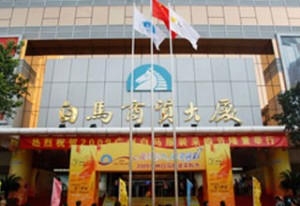 White horse clothes market is one of the grandest and most popular among all clothes markets in Guangzhou. Enjoying convenient location on the opposite side of Guangzhou Railway Station, if fills up six stories of a ten-story office building.
The underground floor mainly specializes in women's shirts, skirts, pants as well as other fashion accessories with prices at about 5-100 rmb. Lots of the products offered on the basement floor of white horse clothes market are imitations, and stay away if you are not targeting at replicas. The 1st floor, fourth and fifth also sell women's clothes but each with their own characteristics, separated by Korean fashions. On these floors, you can find good quality there as well as many up-to-date fashion items. As to the price, the 1st floor is the cheapest while the fourth and fifth floor with prices ranging up to 500 rmb.
The second and third floors mainly specialize in women's clothes and apparel with a focus on adults and the elderly. Most of the brands there are famous local brands.
The sixth floor is targeted at men's clothes, covering a vast array of jeans in local and international brands. Prices go from 50-300 rmb.
Add:  16 Zhannan Lu, Yuexiu District, Guangzhou
地址:广州市越秀区站南路16号
Getting there: By subway; Line 2 to Guangzhou Railway Station, D4 exit 250 meters (820 feet) through tunnel to F exit.
4. Gaodijie Wholesale Market 高第街批发市场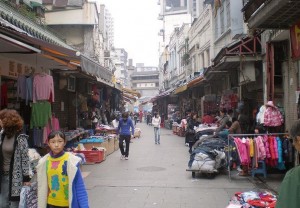 Adjacent to Beijing pedestrian street and haizhu square, Gaodijie market was one of the largest, most famous markets in Guangzhou about one or two decades ago. Attracting about 200,000 customers everyday, it is said to have helped develop Beijing Road into the most popular pedestrian street today. Gaodijie now is in a bit of slump, having been out-done by many modernized, trendy markets sprung up in recent years. The shopping road in Gaodijie is about half kilometer long, lined with more than 300 shops. Here at Gaodijie, you can find socks at about 2-10 rmb, underwear for 5-40 RMB, leisure clothes for 15-50 RMB and swimwear for 25-60 RMB. It is better to ask because most of the goods there are only sold in bulk.
Add: Gaodijie Lu, Yuexiu District, Guangzhou
地址:广州市越秀区高第街路
Opening hours: Daily, 10:00-12:00
Getting there: By bus; lines 1, 7, 14, 64, 125, 182, 191, 215, 219, 222, 263, 543 or 864 to Beijing Lu Kou bus stop. Walk 100 meters (328 feet) to venue on right.
5. First Tunnel Clothing Wholesale Center 广州第一大道服装批发中心
One of the largest underground clothes markets in Guangzhou, First Tunnel Clothing Wholesale Center covers a length of 2 kilometers with 24 entrances, exits and 18 elevators. Altogether there are 1,200 shops and two main floors. The market mainly consists of seven sections: trendy women's wear, leisure wear, men's clothing, Korean styles, local leisure wear, Children's clothes, socks and underwear. The average prices are 25-100 RMB, though newer items range up to 250 RMB.
Add:  Liuhua Jie, Yuexiu District, Guangzhou
地址:广州市越秀区流花街
Getting there: By subway: Metro Line 2 to Guangzhou Railway Station, H exit. Walk 200 meters (656 feet) to venue.