The city sells almost everything no stranger to garment with garment markets dating back a few decades ago. You'll run into a vast array of lovely boutiques at Teen Mall if you are looking for clothes in Guangzhou, however, the astronomical price tag might probably drive you away as it is unbelievably high. So where should you opt to for clothes that can fit an average budget without compromising on quality?
It is never a difficult task to find affordable clothes in Guangzhou as there are lots of large-scale, famous markets as well as shops around Guangzhou metro lines or in the neighboring outskirt of the city.
The challenge, in the easy task of getting affordable fashion garment in Guangzhou, is to avoid junk during your smart search. Look out not to get imitation even in branded shops or outlet stores. Some people are targeted at replica goods while others are trying to get away from them. However, a neat thing about replicas is that they are now of much better quality, especially 1:1 quality ones than they used to be. It happened to many foreigners that after wearing the shoes or clothes after a couple of times, they tear up because of poor quality. The following are the ins and outs of five famous garment markets in Guangzhou where you can get quality goods on a budget. However, one thing you should keep in mind while shopping at Guangzhou clothes wholesale markets: Changing rooms are rare. Don't think you can change your mind and get the money back after several days or several hours of confirming the order.
1. Guangzhou Shisanhang Clothing Wholesale Market Area 广州十三行服装批发市场
A visit to Shisanhang clothes market takes you down to the historical Xiguan area and close to Xidier electronic markets in Guangzhou and Liwan Plaza jewelry market if you are also looking for China jewelry manufacturer.
The markets in Shisanhang mainly cover four main streets: Shisanhang Road, Guyi Street, Doulanshang Road and Hepingdong Road, attracting customers from all over the world.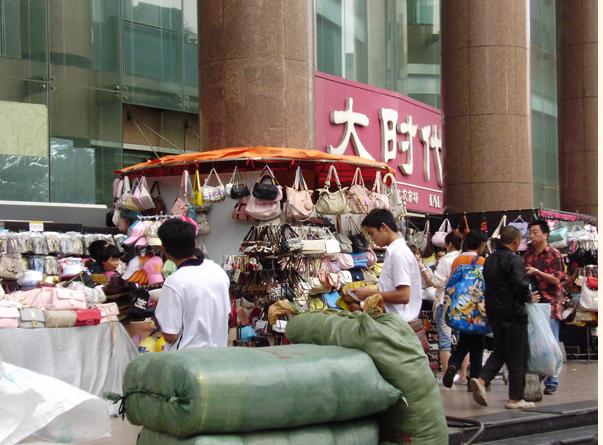 On Shisanhang Road, there are two most famous buildings including New China Building and Hongbiantian Building, both focus on China wholesale fashion clothes, sports apparel for men, women and kids. Prices differ upon quantity and quality, usually it starts from 20-200 RMB. Many other shops on Shisanghang Road also offer average quality clothes at much incentive price. The opening time for wholesale stores is quite early, usually at around 5 am and close at about 1 pm.
Guyi Street is also famous for its cheap clothes. It is a narrow street between Heping dong and Shisanhang. It is the oldest business street in Shisanhang as people have been doing business for at least 300 years, selling everything from second-hand clothes to beautiful silks. Not until 1980s does retail and wholesale business start on Guyi Street. Prices for goods on Guyi Street go from 5-50rmb.
Doulanshang and Hepingdong roads comprise the rest of the clothing market. While prices are affordable here at 10-150 RMB, its reputation for quality is not so good.
Add:  Shisanhang, Liwan District, Guangzhou
广州市荔湾区十三行
Getting there: Bus 31, 38, 61, 102, 103, 106, 128, 134, 186, 202, 217, 239, 251, 288, 521, 541, 556 or 823 to Renmin Nanlu stop
2. Shahe Clothes Wholesale Markets 沙河服装批发市场
Spanning a few kilometers along Xianlie Zhong Lu, Shahe clothes wholesale market area consists of several clothes wholesale buildings with floors of China wholesale clothes stores tucked inside. It's best approached from Exit B of Shaheding subway station, line 6.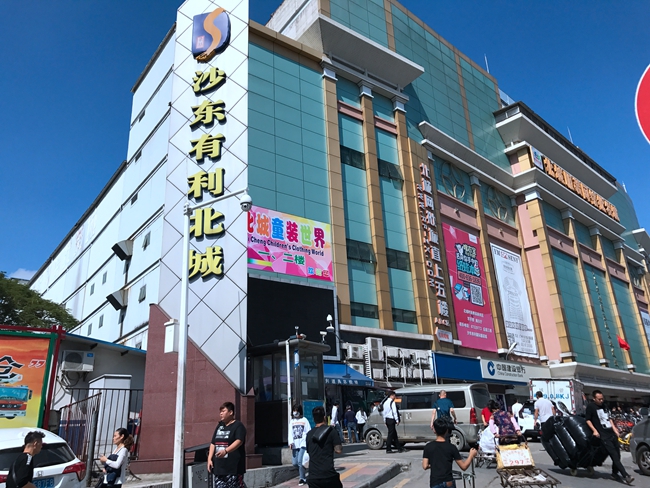 3. Clothes Wholesale Markets around Guangzhou Railway Station 广州火车站服装批发市场
The clothes wholesale markets area around Guangzhou Railway Station is known to boast a comprehensive set of clothing wholesale buildings on both sides. On one side along Guangzhou watch market, you can find Huimei international clothes city, Jindu clothes market, etc. While on the other side across the bridge you'll find Baima clothes market, Yima clothes market, The First Tunnel Clothes Market on the underground, etc. Best approached from subway Guangzhou Railway Station, Line 2/5.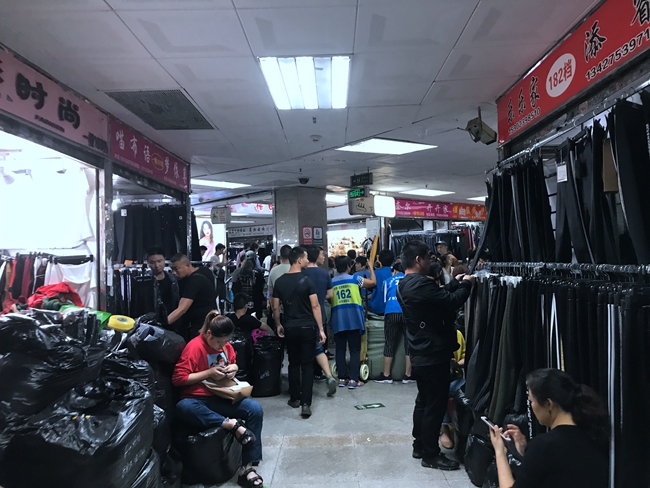 China clothes wholesale markets are great sources if you are looking for average to low quality clothes at low prices. However, for brands looking for China clothes manufacturer to make premium quality clothes, it's better to avoid clothes wholesale markets in China.