The city sells almost everything no stranger to garment with a humongous amount of China clothes factories sprung up a few decades ago. You'll run into a vast array of lovely boutiques at Taikoo if you are looking for clothes in downtown Guangzhou, however, the astronomical price tag might probably drive you away as it is unbelievably high. So where should you go for clothes that can fit an average budget without compromising on quality?
It is never a difficult task to find affordable clothes in Guangzhou as there are lots of large-scale, famous markets as well as shops around Guangzhou metro lines or in the neighboring outskirt of the city. The following are the top three famous garment markets in Guangzhou where you can get quality goods on a budget.
Where to buy wholesale clothing from China?
Shisanhang clothes wholesale markets
Shahe clothes wholesale markets
Zhanxi clothes wholesale markets
The challenge, in the easy task of getting affordable fashion garment in Guangzhou, is to avoid junk during your smart search. Look out not to get imitation even in branded shops or outlet stores. Some people are targeted at replica goods while others are trying to get away from them. However, a neat thing about replicas is that they are now of much better quality, especially 1:1 quality ones than they used to be. It happened to many foreigners that after wearing the shoes or clothes after a couple of times, they tear up because of poor quality. However, one thing you should keep in mind while shopping at Guangzhou clothes wholesale markets: Changing rooms are rare. Don't think you can change your mind and get the money back after several days or several hours of confirming the order.
Now, let's delve into these clothes wholesale markets in China.
1. Guangzhou Shisanhang Clothing Wholesale Market Area 广州十三行服装批发市场
A visit to Shisanhang clothes market takes you down to the historical Xiguan area and close to Xidier electronic markets in Guangzhou and Liwan Plaza jewelry market if you are also looking for China jewelry manufacturer.
The markets in Shisanhang mainly cover four main streets: Shisanhang Road, Guyi Street, Doulanshang Road and Hepingdong Road, attracting customers from all over the world.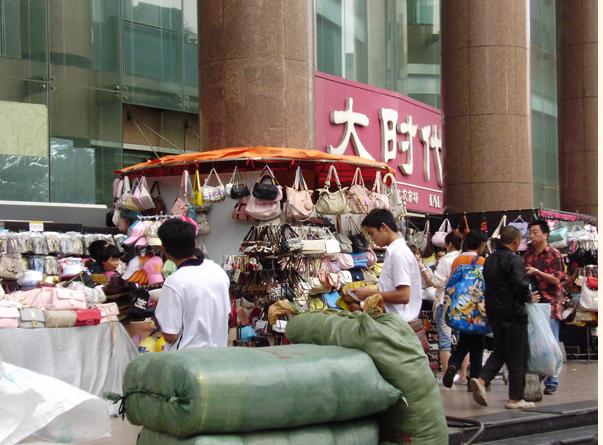 On Shisanhang Road, there are two most famous buildings including New China Building and Hongbiantian Building, both focus on China wholesale fashion clothes, sports apparel for men, women and kids. Prices differ upon quantity and quality, usually it starts from 20-200 RMB. Many other shops on Shisanghang Road with many China t-shirts manufacturers offering middle quality clothes at much incentive price. The opening time for wholesale stores is quite early, usually at around 5 am and close at about 1 pm.
Guyi Street is also famous for its cheap clothes. It is a narrow street between Heping dong and Shisanhang. It is the oldest business street in Shisanhang as people have been doing business for at least 300 years, selling everything from second-hand clothes to beautiful silks. Not until 1980s does retail and wholesale business start on Guyi Street. Prices for goods on Guyi Street go from 5-50rmb.
Doulanshang and Hepingdong roads comprise the rest of the clothing market. While prices are affordable here at 10-150 RMB, its reputation for quality is not so good.
Add:  Shisanhang, Liwan District, Guangzhou
广州市荔湾区十三行
How to get to Shisanhang clothes markets?
# Bus: 31, 38, 61, 102, 103, 106, 128, 134, 186, 202, 217, 239, 251, 288, 521, 541, 556 or 823 to Renmin Nan Lu stop
# Metro: Cultural Park, Line 6
2. Shahe Clothes Wholesale Markets 沙河服装批发市场
Spanning a few kilometers along Xianlie Zhong Lu, Shahe clothes wholesale market area consists of several clothes wholesale buildings with floors of China wholesale clothes stores tucked inside. It's best approached from Exit B of Shaheding subway station, line 6. Most sellers on Taobao or other online market places get the clothes from Shahe. As you can see many buyers walking around with black plastic bags of clothes, and there're many shipping agents around targeted at taobao shops, offering insanely low prices on shipping around China. For example, the shipping fee for one t-shirt from Guangzhou to other cities in Guangdong would cost merely around $0.7 dollars, and it will arrive on the second day.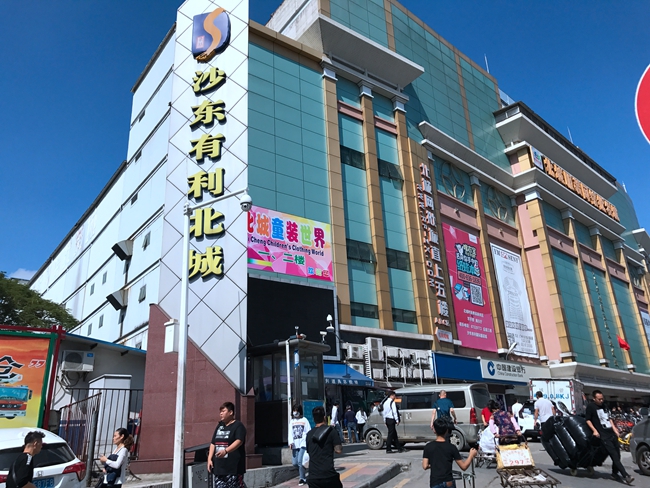 How to get to Shahe clothes markets?
Take metro Line 6, and get off at Shaheding station.
3. Zhanxi: Clothes Wholesale Markets around Guangzhou Railway Station 广州火车站服装批发市场
The clothes wholesale markets area around Guangzhou Railway Station is known to boast a comprehensive set of clothing wholesale buildings on both sides. On one side along Guangzhou watch market, you can find Huimei international clothes city, Jindu clothes market, etc. While on the other side across the bridge you'll find Baima clothes market, Yima clothes market, The First Tunnel Clothes Market on the underground, etc. Best approached from subway Guangzhou Railway Station, Line 2/5.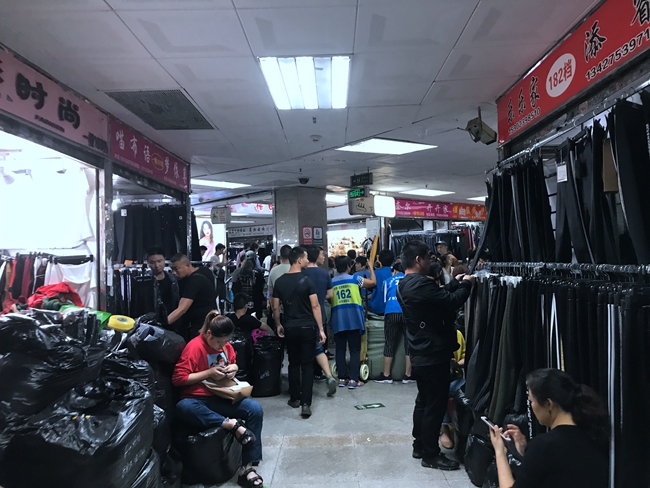 China clothes wholesale markets are great sources if you are looking for average to low quality clothes at low prices. However, for brands looking for China clothes manufacturer to make premium quality clothes, it's better to avoid clothes wholesale markets in China.
How to get to Zhanxi clothes wholesale markets?
Take Line 2 or Line 5, and get off at Guangzhou railway station.
What to be aware of while buying from China clothes wholesale markets?
Some markets open in the earlier morning and close at noon like 13:00pm while some markets open from 9:00-10:00am to 18:00-19:00pm.
Traffic can be a nightmare if you rent a car for a day to go to different markets. Parking and getting stuck in the road will kill most of the day. It's suggested to go by metro or take taxi.
It's quite challenging to do quality inspection in the shops in the wholesale markets if you're buying in bulk. Most of the shops take up very limited spaces, there's even traffic congestion inside the markets, sometimes you can't even move forward with the huge crowds. There're chances that you might get some inferior ones.
Most of the clothes are only available in Asian sizes.
Changing room is rare, and it's almost impossible to get money back, so check carefully before going into the deal.
Cash used to be the king in offline shops in China. However, with the popularity of wechat pay, alipay, most shops accept digital payments. But not including credit cards.
Three questions to ask before buying from China clothes wholesale markets.
Do Chinese wholesalers have export license?
The vast majority of clothes wholesalers in the wholesaler markets in China focus more on domestic markets like taobao, or work with export agents. Seldom do they have export licenses. If you're buying directly from them, make sure they can export for you or you have agents to export the goods.
Can the clothes be relabeled?
If you don't want to sell under others' brands, it's better to make sure the clothes wholesalers can put on your brand. Usually the clothes with stocks feature others' brands.
Can you do quality control over wholesale clothes?
The risk of getting poor quality clothes with defects is certainly not low while buying directly from wholesalers in the markets than producing private label clothes based on your specifications.
Clothes wholesale markets are ideal for those who are looking for
Stocks

Small order quantity

Low to middle end clothes