If you are doing business in Guangzhou for clothes but do not know Shi San Hang, you are out. If you are looking for the name of Shi San Hang clothes wholesale markets when you are on Shi San Hang road, then you are road again. I've been a Shi San Hang buyer for about five years, and countless people have been asking me where is Shi San Hang clothes wholesale market in front of Guangzhou Xin Zhong Guo clothes wholesale market.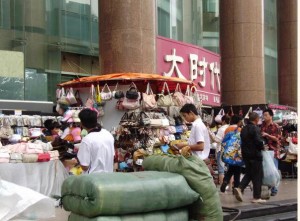 Don't think that Shi San Hang wholesale markets would have the name of Shi San Hang. Indeed, it mainly refers to Guangzhou Xin Zhong Guo wholesale market located on Shi San Hang Road, liwan district.
Shi san hang is a clothes market in Guangzhou bustling with countless people everyday, and it is also the best market for wholesale clothes in Guangzhou.
In the past few months, there have sprung up some stores near Xin Zhong Guo building, selling shoes, hats, scarves, etc. at discount rates.
The 1st to 3rd floors on Xin Zhong Guo building are mainly selling cheap clothes that can be found in Sha He Clothes Wholesale Market. Of course, there are also some stores with their own style, very fashionable and update every few days. It is a week since I last went there and this time I found lots of new styles of clothes springing up. The best part about these stores is that you can get even two or three pieces of clothes at wholesale prices.
The 4th floor is clothes showroom with office. Most of the stores would not exhibit their latest styles of clothes there, fearing that they would be copied. A boss that I used to buy clothes from told me that usually the new styles would send to their old customers and they would be put on exhibition after a trial sale of one or two weeks. The minimum purchase quantity of clothes on the 4th floor is 5 pieces, 10 pieces, 15 pieces, etc.
The 4th to 6th floors mainly offers woven clothes, while the 7th to 9th floors as far as I 'm concerned, it boasts lots of new styles of clothes with frequent updates。
The 10th floor to the above floors are mainly large stores, which I will introduce next time.
Simple tips for buying wholesale clothes from Shi San Hang:
Usually experienced buyers at shi san hang would come to the market about one or two days earlier. For the first one or two days, they don't buy anything, just hang around and make comparisons between the clothes offered by different stores and different wholesale markets in Guangzhou. For the third day, they would begin to buy clothes.
By Shi San Hang buyer Monica