China Hotel, also known as A Marriott Hotel, is a five-star hotel boasting an enchanting luxury, grace and sheer gratification of body and soul located at the heart of Yuexiu district,Guangzhou.
Adjacent to Yuexiu Park Metro Station and Express bus stop, China Hotel enjoys its strategic geographical location to China Import and Export Fair (Canton Fair), Hongkong and Macau.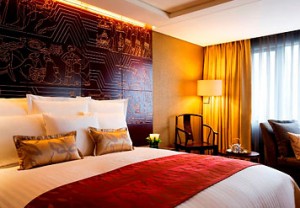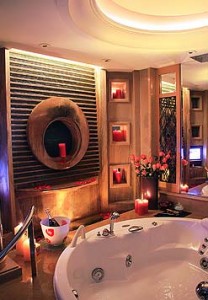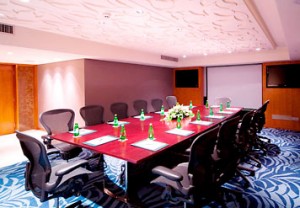 China Hotel proudly offers elegant accommodations featured by lavish bedding, high-speed internet, noise-reduction windows, air-purification systems as well as large work spaces. 24-hour health club with diverse exercising areas including cardio and weights, tennis, sauna as well as an outdoor swimming pool can help gusts stay healthy and enjoy their recreation time.
Boasting a total of 850 capacious and well decorated guest rooms equipped with modernized functions such as smoke detectors and nozzle, multi-language voicemail box as well as 30 satellite television channels from countries around the world.
As to dinning, 7 restaurants and bars offering various cuisines can delight your tastebuds as there is a saying goes: "Eat inGuangzhou". International cuisine is served at Prime, traditional Chinese food is in Food Street, Cantonese cuisine at Four Seasons while a luxurious taste of a martini or a favorite cocktail can be enjoyed at Sapphire Lounge in China Hotel A Marriott.
Shopping is fun and convenient in Marriott Hotel with a Shopping Arcade featuring top brand name boutiques, in addition to an HSBC Premier Branch and ATM, Post Office, Beauty Salon, Nail Salon, Laundry and Valet Shop.
Business center with impeccable catering and attentive event planning abilities makes events much more memorable when planning a meeting or a wedding.
Address: No.122, Liuhua Road, Yuexiu, Guangzhou, Guangdong, China, 510220
广州市越秀区流花路122号
Telephone: 020-86666888
Website: http://www.marriott.com
Direction:2.47 km from Beijinglu Pedestrian Street
2 km from Guangzhou Railway Station
0.2 km from Liuhua Complex
33 km from Guangzhou New Baiyun International Airport
Surrounding: the verdant landscape of Yuexiu Park and LiuHua Lake Park, and within close proximity of the historical Museum of the Western Han Dynasty Mausoleum of the Nanyue King